ATSU-SOMA students experience DO Day on the Hill
Posted: March 14, 2014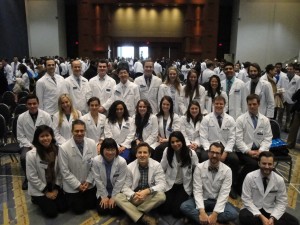 Jeremy Berger and Timothy Lemaire, both OMS ll students, led a group of 30 A.T. Still University's School of Osteopathic Medicine in Arizona (ATSU-SOMA) students to DO Day on the Hill. Berger is a student ambassador, and Lemaire is the Class of 2016 president.
OMS students from years one through four at ATSU-SOMA participated in the event held on March 6 in Washington, DC. Students trained at the Washington Convention Center and had the opportunity to lobby with congressmen on Capitol Hill.
As part of their training, students attended an American Osteopathic Association session to learn about two important healthcare issues:
Reforming Medicare Physician Payment (HR 4015/SB2000); and Ensuring the Future Physician Work Force (SB1759), the Teaching Health Center Re-authorization Act.
"Many ATSU-SOMA students are passionate about S1759 because it will continue the funding for more residency programs based at Community Health Centers, such as the Wright Center-ATSU Residency Program in Washington DC," said Berger.
Berger was able to meet with his congressional representative, the Honorable Ami Bera, MD, (D-CA-07) to discuss SB1759. "As a co-sponsor of the bill, Dr. Bera was very receptive," said Berger. In his discussion with the congressman Berger noted that Dr. Bera stressed that "It is crucial to address the projected doctor shortage so that everyone can get the doctor they need."
The students' experience of DO Day on the Hill was featured in the March 14 issue of DO Magazine.