ATSU-SOMA recognizes new student doctors with White Coat Ceremony
Posted: November 9, 2021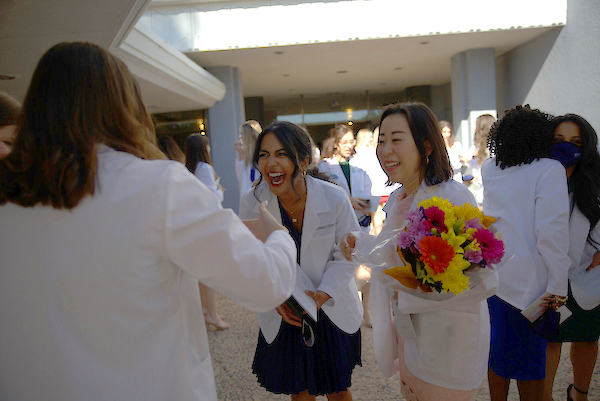 A.T. Still University's School of Osteopathic Medicine in Arizona (ATSU-SOMA) recognized 157 new student doctors with a traditional White Coat Ceremony on Oct. 29, 2021.
Barbara Ross-Lee, DO, the first African American woman to serve as dean of a medical school, and president-elect of the American Osteopathic Foundation, said the white coat is a symbol of a person's journey into medicine, the practice of which is both a science and art. The latter is demonstrated by caring, compassion, empathy, equity, inclusion, value, respect, and trustworthiness.
"(The white coat) represents your personal aspirations, your commitment to providing health and life services, your understanding of the importance of humanism and the care of other human beings, and your professional status in the hierarchy of medicine," Dr. Ross-Lee said.
Chad Taylor, DO, '13, interim regional director of medical education, North Country HealthCare, administered the Osteopathic Pledge of Commitment.
In closing, ATSU President Craig Phelps, DO, '84, reminded students they will face difficult times not only over the next four years, but throughout their careers. It's in these moments they must rely on each other, and be reminded of what the white coat represents.
"Work together, enjoy every day, and remember that by wearing the white coat, you are a leader," Dr. Phelps said.