ATSU-SOMA partners with WE CAN to teach children heart healthy practices
Posted: November 8, 2017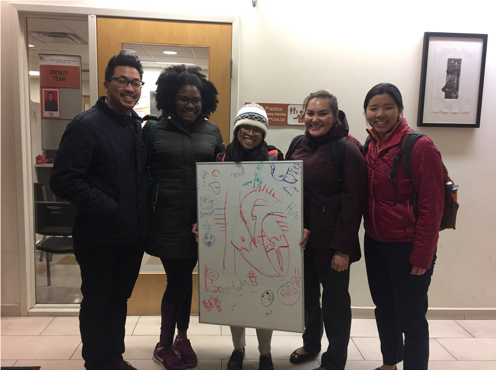 This spring, as part of A.T. Still University School of Osteopathic Medicine in Arizona's (ATSU-SOMA) Sigma Sigma Phi and Gold Humanism Honors Society's service week, students in Washington, D.C. took time to teach children about the importance of eating healthy and staying active.
ATSU-SOMA partnered with Ways to Enhance Children's Activity and Nutrition and Unity Health Care to teach underserved children about the cardiovascular system, the human pulse, growth charts, body mass index (BMI), and heart healthy exercises.
The project included four stations to maximize engagement. At station one, medical students educated families about the design and function of the heart. At station two, children learned to find and read the radial and dorsalis pedis pulse to understand blood flow and heart rhythm. At station three, children and families learned about BMI, how it is defined, and how to interpret growth charts for different ages. At station four, children learned heart healthy exercises that they can practice at home, such as yoga and jumping rope.
ATSU-SOMA expects to hold the project each year as new children enter the program.