ATSU-SOMA holds first culinary medicine workshop
Posted: June 27, 2018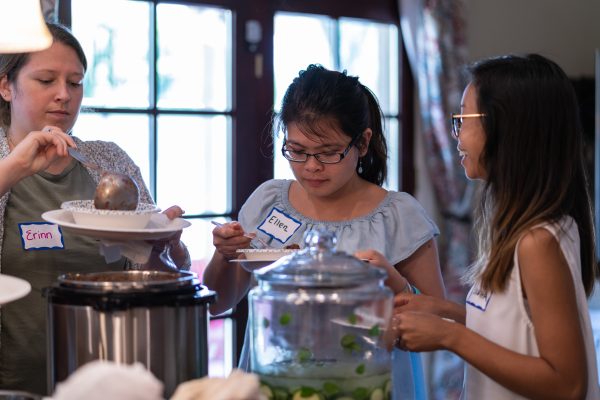 A.T. Still University's School of Osteopathic Medicine in Arizona (ATSU-SOMA) recently held its first culinary medicine workshop as part of the Osteopathic Wellness Lifestyle (OWL) program. Student participants learned to blend the culinary arts with researched-based medical science to treat and prevent many chronic diseases.
The curriculum promotes the use of nutritious food as medicine in response to many common, chronic health concerns. For example, students learned about the correlation between diet and metabolic disease while preparing black bean sweet potato stew. They also explored the research on foods that fight cancer while cooking a tasty sesame broccoli dish with brown rice. 
"It has made me more aware of the effects diet has on health, and I plan to apply this knowledge by incorporating more detailed nutritional advice into treatment plans where appropriate," says first-year student Benjamin Jiao.
"The workshop was a great way to learn, discuss, and experiment with the application of medicine into delicious culinary masterpieces," adds third-year student Starr Matsushita. "I feel better able to not only utilize these lessons in my own kitchen, but to serve as an educational resource for all future patients looking to address their nutrition needs."
In addition to nutrition, the OWL program covers many topics in lifestyle medicine such as exercise, sleep, and stress management. Despite the growing body of research that supports the correlation between lifestyle and chronic disease, most medical schools fail to meet even minimum standards of instruction in this area. To address this need, ATSU-SOMA has begun to incorporate its innovative osteopathic lifestyle medicine curriculum across all four years of students' medical education.
The curriculum is designed to encourage future physicians to approach patients with an emphasis on wellness, rather than disease. In doing so, the program addresses the overwhelming rates of physician depression and lifestyle imbalance, promoting wellness and self-care for medical students.
"We hope this experiential learning model will allow students to grow personally, as well as professionally," says Tala Dajani, MD, MPH, assistant professor at ATSU-SOMA.