ATSU-SOMA commencement ceremony honors 113 new doctors of osteopathic medicine
Posted: May 28, 2022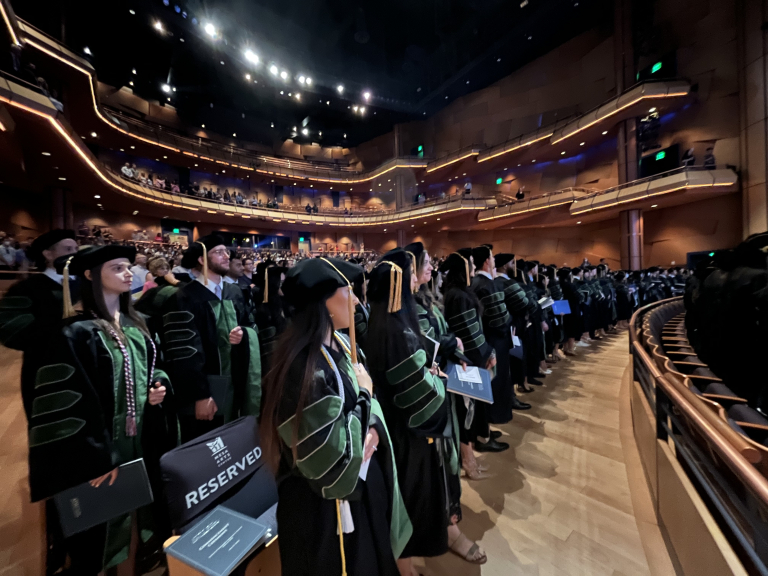 ATSU-SOMA commencement.
A.T. Still University's School of Osteopathic Medicine in Arizona (ATSU-SOMA) celebrated 113 students becoming doctors of osteopathic medicine during a commencement ceremony Friday, May 27, 2022, in Mesa, Arizona.
Additionally, two students graduated with master of public health degrees from ATSU's College of Graduate Health Studies.
Sharon Obadia, DO, FNAOME, '97, interim dean of ATSU-SOMA, said graduates are a force for good in the world and promised they will make a difference.
"You each now have the responsibility to define what it means to be an osteopathic physician, to demonstrate to the world what true professionalism is, and to shine a bright light on our profession," Dr. Obadia said.
"You are not carrying the weight of this responsibility alone. We are all here to support you."
Stephanie Cox-Batson, MD, MA, FACOG, delivered the commencement address. Dr. Cox-Baston serves as chief medical officer for Near North Health Service Corporation in Chicago, Illinois. She also serves as an attending physician in the obstetric triage unit at Northwestern Prentice Hospital and as an associate with Northwestern Specialists for Women.
Dr. Cox-Batson earned her doctor of medicine degree and master of arts degree in neurophysiology from Washington University School of Medicine in St. Louis, Missouri, followed by postgraduate training at McGaw Medical Center of Northwestern University and Prentice Women's Hospital. A diplomate of the American Board of Obstetrics and Gynecology, she is a fellow of the American College of Obstetricians and Gynecologists and is a member of the American Society for Colposcopy and Cervical Pathology.
She urged students to listen and be present for their patients. With that will come greater understanding, wisdom, and appreciation.
"As doctors of osteopathic medicine, you have a leg up on the rest of us. You have been trained to see the patient as a whole. That is a gift, and you should cherish it," Dr. Cox-Baston said.
"You are doctors now, but you do not deserve your patient's respect. You're going to earn it. They, on the other hand, deserve your respect the second they walk into your room. If you remember this, and if you allow your patients to heal you, you're going to have wealth and health beyond imagination."
Graduates also heard from Linda J. Thomas-Hemak, MD, FACP, FAAP. Dr. Thomas-Hemak serves as president and CEO of The Wright Center for Community Health and its affiliated entity, The Wright Center for Graduate Medical Education, in Scranton, Pennsylvania. After graduating as a Michael DeBakey Scholar from Baylor College of Medicine in Houston, Texas, and completing Harvard's Combined Internal Medicine/Pediatrics Residency program in Boston, Massachusetts, she joined The Wright Center in 2001, becoming president in 2007 and CEO in 2012.
Dr. Thomas-Hemak was instrumental in the creation of The Wright Center for Graduate Medical Education's pioneering National Family Medicine Residency Program, designed to address America's primary care physician shortage and related health disparities through collaborations with federally qualified health center partners. Additionally, she led pioneering efforts for the national establishment of the HRSA-funded Graduate Medical Education Safety-Net Consortium, with The Wright Center now serving as the largest teaching health center network in America.
"In you we see the hope for the future recovery of the healthcare delivery and medical education systems in this country," she said. "You should know that was the purpose of founding ATSU, and with NACHC (National Association of Community Health Centers) at your side and all the community health centers, we're ready to lift you up and to help you be successful as you go on your journey."
Drs. Cox-Baston and Thomas-Hemak were each presented honorary doctor of humane letters degrees by ATSU President Craig Phelps, DO, '84.
Ron Yee, MD, MBA, FAAP, chief medical officer of NACHC, provided words from the nation's community health centers. Dr. Yee reminded ATSU-SOMA graduates of the University's role in 13,500 community health centers which serve 1 in 11 people in the U.S.
"ATSU-SOMA students are trained to practice highly effective whole-person medicine, bringing quality care to people in some of the poorest underserved communities in the United States," Dr. Yee said. "It is estimated ATSU students and graduates provide care to more than 25 million underserved patients each year."
In closing remarks, Dr. Phelps reminded graduates of the tools they possess and support they can find in the ATSU community.
"For the rest of your life you will wear the mantle of a healer," Dr. Phelps said. "More importantly, those sitting before you, next to you, and behind you will support and continue to support you throughout your career, as you dedicate yourself to the most noble of all callings – helping others."