ATSU-SOMA celebrates 101 new doctors of osteopathic medicine
Posted: May 27, 2021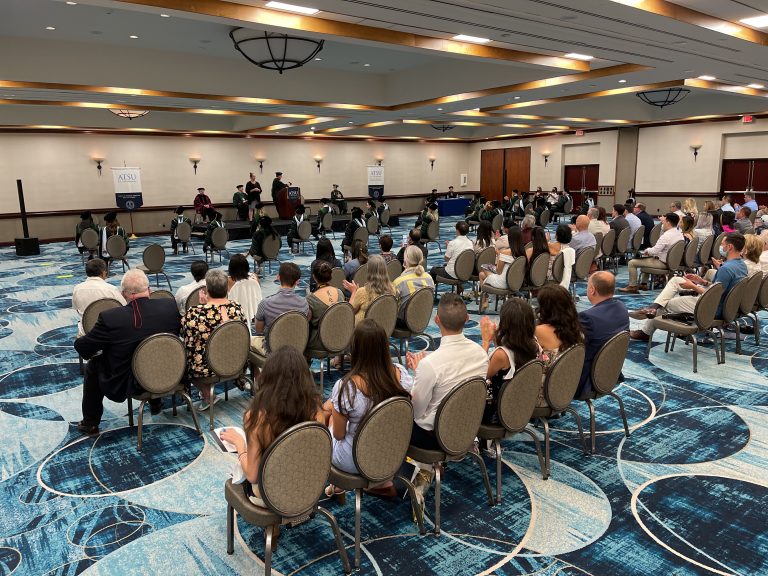 A.T. Still University's School of Osteopathic Medicine in Arizona (ATSU-SOMA) celebrated 101 graduates becoming doctors of osteopathic medicine during commencement ceremonies May 21, 2021.
The event was divided into three separate ceremonies to allow for appropriate social distancing, and the coronavirus pandemic was central to the commencement address delivered by Karen Nichols, DO, MA, MACOI, FACP, CS-F.
Dr. Nichols is a former dean of Midwestern University Chicago College of Osteopathic Medicine and past president of the American Osteopathic Association, Arizona Osteopathic Medical Association, and American College of Osteopathic Internists, and was the first woman to hold all those positions. She is also the past president of the Institute of Medicine of Chicago Board of Governors, and is currently chairing the Accreditation Council for Graduate Medical Education board.
Dr. Nichols discussed osteopathic medicine's history and the journey of its founder, A.T. Still, DO, and his perseverance in the face of overwhelming adversity.
That resilience, she said, is the same trait shown by ATSU-SOMA graduates who continued their education and clinical rotations during the COVID-19 pandemic.
"You are going to be better physicians because of the experiences you have had," Dr. Nichols said. "We are experiencing the kinds of changes of life plans we'd never thought we would have to do. We are experiencing a heightened awareness of the risk to our own health. That will make you a better doctor, because when you have to share that life-changing diagnosis of diabetes, severe heart failure, cancer, you will know what those life-changing impacts feel like. Those of us who learned our craft in an easier day salute you."
Jeffrey Morgan, DO, MA, FACOI, CS, ATSU-SOMA dean and associate professor, led graduates in reciting the "Oath of the Profession," and ATSU President Craig Phelps, DO, '84, called attention to a specific line in his closing remarks.
"The oath to the osteopathic profession speaks to retaining the confidence and respect of your patient both as a physician and a friend," Dr. Phelps said. "You may ask yourself, 'How does that work? Patients as friends?' While it may be a little daunting at first, you will find fantastic opportunities to become involved in your communities, just as you have been involved during your clinical rotations at community health centers. It's natural for your patient community to become your family and friends, and those relationships will only make you better able to serve your community's needs as osteopathic physicians."