ATSU-SOMA alumnus named Outstanding Resident of the Year by AOF, ACOFP
Posted: November 4, 2017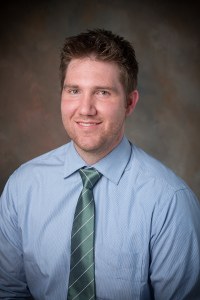 Matthew Nelson, DO, MPH, '15, was recently named Outstanding Resident of the Year in Family Medicine by the American Osteopathic Foundation and the American College of Osteopathic Family Physicians (ACOFP). The ATSU-SOMA alumnus is a third-year resident with an honors track in obstetrics at St. Mary's Medical Center in Grand Junction, Colorado.
According to the ACOFP, the award recognizes outstanding residents who show "a unique combination of clinical promise, leadership, dedication, and commitment to osteopathic patient-centered care that truly sets them apart from their peers." The organization anticipates that many award recipients will go on to become national and international leaders in their fields.
Dr. Nelson is committed to serving underserved populations through community health programs. He volunteers regularly for initiatives that help the homeless population, and has worked to provide food boxes for those in need. He is also dedicated to research, and has submitted several papers for publication.
Dr. Nelson is grateful for the support of his family. "This award means a great deal to me in that it validates a risky decision we made to leave my PhD program for the field of osteopathic medicine," he says. "Further, as an endeavor that has demanded considerable time investment of my wife and five children, this award should really be considered a family effort."
Read more about Dr. Nelson.