ATSU-SOMA alumna presents award-winning essay at the 2018 Osteopathic Medical Education Conference
Posted: November 15, 2018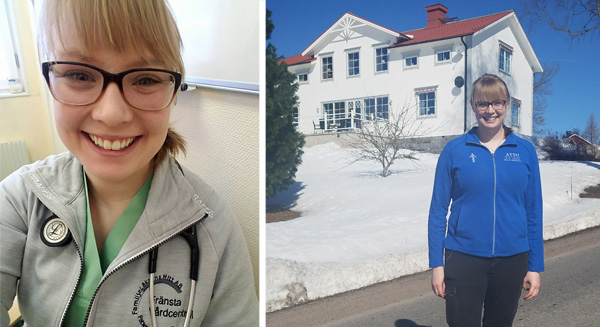 A.T. Still University's School of Osteopathic Medicine in Arizona (ATSU-SOMA) alumna Megan Aspelund, DO, '18 received second place in the American Osteopathic Association's Bureau of International Osteopathic Medicine (AOA-BIOM) for her narrative medicine essay. Dr. Aspelund's essay "Finding Health in Sweden" was based on her fourth year international rotation she completed in Sweden.
Dr. Aspelund was originally supposed to present a poster at the 2018 Osteopathic Medical Education Conference (OMED) in San Diego; however, the first place winner was unable to attend the conference and present a poster, as well as a video presentation, for his award. During a very busy time of her first year of residency, Dr. Aspelund jumped at the opportunity to present both a video presentation and a poster for the OMED conference.
Dr. Aspelund was honored to be a part of AOA-BIOM at OMED 2018 and to discuss her international rotation.
"ATSU-SOMA was readily available and worked diligently with me to create one of the first international rotations in Sweden possible, and helped to make my dream of experiencing socialized medicine in rural Sweden, where my ancestors lived, a reality," said Dr. Aspelund.
During her time in Sweden, Dr. Aspelund was able to see a different perspective of how medicine can be provided and the healthcare disparities that are shared between Swedish and Alaskan communities.
"I was also able to follow the history of my great grandfather before he immigrated from Sweden to live in Alaska. I learned that while I am the first Alaska Native physician in my family, I also follow generations of physicians from Sweden." noted Dr. Aspelund.
Thanks to alumni like Dr. Aspelund, ATSU-SOMA's service-oriented education model is successfully represented in her own community in Alaska, as well as areas impacted by her work during her time in Sweden.
"The whole experience of the rotation added a whole person dimension to my understanding of medicine and how I can apply that knowledge to help others as an osteopathic physician," noted Dr. Aspelund.