ATSU receives Campus Management award
Posted: May 6, 2014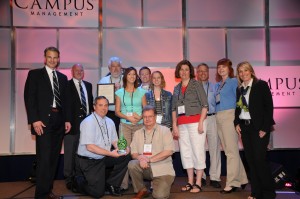 A.T. Still University (ATSU) has received the Excellence in Constituent Service Award for providing unparalleled service and support to two unique constituencies:  internal staff and external donors. This honor was bestowed on ATSU by Campus Management Corp., a leading provider of enterprise software products and services to higher education.
ATSU processes more than 18,000 applications per year, many of which are from third-party agencies.  Integrating this information with student information system was a manually intensive process for staff members, until ATSU developed an innovative load process leveraging next-generation technology from Campus Management.
"In one application cycle, we automatically processed 18,356 new applications for 557 open seats," said Curtis Law, manager of application development and services. "This was achieved with fewer than 10 people in the residential admissions office, which would not have been possible before the automated process was implemented."
Not only was ATSU recognized for improving workflows for admissions professionals, but for enhancing its donor services utilizing Campus Management's Talisma Fundraising, which increased online giving by five percent in just one campaign.
"Prior to deploying the Talisma Fundraising online giving module, supporters used a lengthy and convoluted online giving page through our website," said Krista Llewellyn, advancement services director. "We can now provide one-click simplicity to donors, which has not only increased giving to the University, but also simplified the advancement processes for staff."
ATSU staff members were presented the award at the CampusInsight 2014 Users Conference in Orlando, Florida.