ATSU provides medical services at karate regional tournament
Posted: March 4, 2014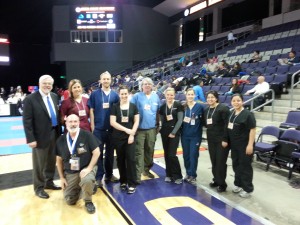 A.T. Still University's Arizona School of Health Sciences (ATSU-ASHS), Department of Physician Assistant Studies, provided the medical staff for the 2014 Arizona Karate Championship and USA National Qualifier held on March 2 at Grand Canyon University Arena in Phoenix, Ariz.
Physician assistant students as well as ATSU-ASHS faculty members provided staff members for each of the five rings. More than 20 faculty, PAs and pre-PA students participated in this exciting event for the 250 competitors of all ages. Bob McMullen, EdD, PA-C, associate professor, ATSU-ASHS, and Gerry Keenan, PA-C, MMS, associate professor, ATSU-ASHS, headed up the team of medical staff for this event.
USA Karate Arizona is a nonprofit corporation that is the approved sports organization in Arizona for USA Karate. USA Karate is the national governing body for the United States Olympic Committee and the World Karate Federation.
Randy Danielsen, PhD, PA-C, DFAAPA, dean, ATSU-ASHS, heads up the relationship between USA Karate Arizona and ATSU and sits on the USA Karate Arizona board of directors. Dr. Danielsen is a more than 30-year Uechi-Ryu black belt who trains in Sensei Walden's dojo in Glendale, Ariz., and was recently certified as a USA Karate Judge.