ATSU provides free sports physicals for kids
Posted: June 7, 2013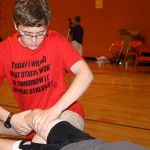 ATSU Gutensohn Clinic and North Missouri Sports Medicine and Orthopaedic Surgery held its third annual Sports Physicals clinic on June 6-7, 2013.
Several hundred school-age athletes from Northeast Missouri were given free sports physicals, including a cardiac, pulmonary, and full orthopaedic exam.
Thanks to grant funding, two athletic training students and a faculty member from A.T. Still University's Arizona School of Health Sciences were able to participate and study the athletes on how they might be affected by future injuries.
This event was held in conjunction with Northeast Regional Medical Center and other community sponsors. A health vendor fair was available to parents while they waited.