ATSU-ASDOH provides free dental care for uninsured children at annual event, Give Kids A Smile
Posted: February 20, 2018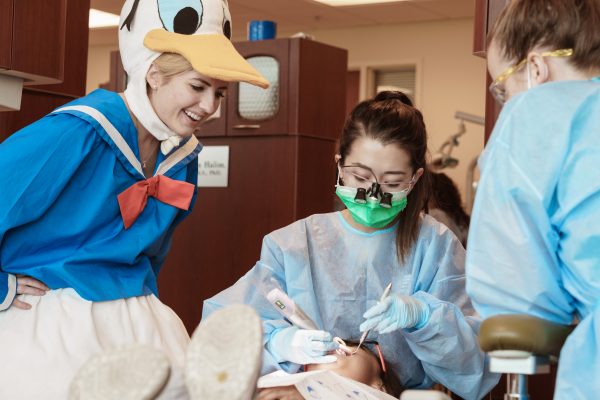 On Friday, Feb. 16 from 9 a.m. to 1p.m., A.T. Still University's Arizona School of Dentistry & Oral Health (ATSU-ASDOH) and the Arizona Dental Foundation provided more than 250 uninsured children with free dental treatment at the annual event, Give Kids A Smile (GKAS).
Dental care was provided by ATSU-ASDOH students, faculty, and alumni, as well as local volunteer dentists. In total, about 600 volunteers participated in this year's event. Children ages 6-12 from local school districts and community organizations were prescreened to receive cleanings, fillings, sealants, and extractions.
To reinforce healthy habits, the event made going to the dentist fun. Festivities included carnival games and face painting. Many of the dental students dressed up as superheroes and other fictional characters to put kids at ease as they received care. 
Reporters from FOX10 Phoenix and Good Morning Arizona stopped by to interview dental students and patients. Univision Arizona featured the event live on its Facebook page.
GKAS is a national program, launched in 2003 by the American Dental Association to reduce school absenteeism by preventing oral health issues. Since the program's inception, more than 5.5 million underserved children across the country have received free oral health services at a GKAS event.
This was ATSU-ASDOH's 13th year hosting GKAS. In that time, the School has served more than 4,000 children, providing approximately $2 million in care from 5,000 volunteers. That is certainly something to smile about!