ATSU president's cabinet meet with U.S. Acting Surgeon General
Posted: October 2, 2014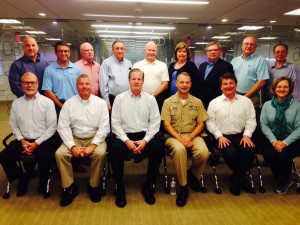 Craig Phelps, DO, '84, president of A.T. Still University (ATSU), G. Scott Drew, DO, FAOCD, '87, chair of ATSU's Board of Trustees, and members of the president's cabinet, enjoyed an opportunity to meet United States Acting Surgeon General Rear Admiral (RADM) Boris D. Lushniak, MD, MPH, during a recent trip to Washington, DC.
As Acting United States Surgeon General, RADM Lushniak oversees operation of the U.S. Public Health Service Commissioned Corps, and is also responsible for articulating the best available scientific information to the public regarding ways to improve personal health and the health of the nation.
A goal of the Surgeon General's office is to increase the number of Americans who are healthy at every stage of life. Going hand in hand with that goal is the Surgeon General's Every Body Walk! Initiative.
Walking is currently the most commonly reported form of physical activity among U.S. adults. The Every Body Walk! Initiative encourages Americans to take the initiative to walk more often to improve overall health.
The Surgeon General's National Prevention Strategy emphasizes priorities that are most likely to reduce the burden of the leading causes of preventable death and major illness. Initiatives include tobacco free living, healthy eating, active living, and mental and emotional well-being.
Since its inception, ATSU has focused on whole person health care and community health. The shared ideology between the University and the office of the Surgeon General will help in creating a healthier nation.
More information about the Surgeon General's initiatives are available at surgeongeneral.gov.