ATSU partners with Air Evac
Posted: June 9, 2014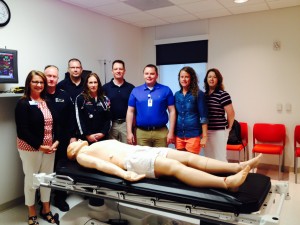 A.T. Still University-Kirksville College of Osteopathic Medicine (ATSU-KCOM) has partnered with Air Evac Lifeteam for use of its Human Patient Simulation Center.
Air Evac medical professionals are assisting ATSU-KCOM as Basic Life Support and Advanced Cardiovascular Life Support course instructors, and in turn, are able to use the simulation center for their own training courses such as Airway Management.
Pictured left to right: Lisa Archer, RN, BSN, director of simulation & performance assessment, Greg Hunt, Eric Bean, Tina Reed, Carl Roberts, Travis Richards, Gretchen Woelfel, and Elaine Louder, simulation technician.