ATSU participates in Bowl for Brain Injury
Posted: October 1, 2012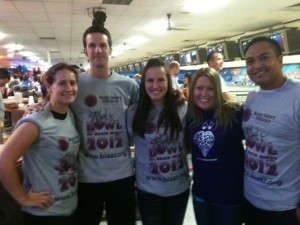 Nine ATSU teams representing athletic training, physical therapy, occupational therapy, osteopathic medicine, audiology, and physician assistant studies participated in the 2012 Arizona Bowl for Brain Injury event. Bowl for Brain Injury is an annual fundraiser hosted by the Brain Injury Alliance of Arizona (BIAAZ) which allows participants to raise money for a special cause while having a great time with friends and family.
Funds from Bowl for Brain Injury go towards many BIAAZ programs including Kamp Kan Do, support groups, educational symposiums, professional networking meetings, and others. This year's event raised $106,606.25 for BIAAZ. ATSU teams, which comprised students, faculty and staff members, raised close to $5,000.
The ATSU participants were able to enjoy a great day with raffle prizes, a silent auction, and mingling with students from other disciplines and other participants.
Dr. McLeod, professor, Athletic Training program, wishes to extend thanks all those who participated, purchased raffle tickets, or supported the bake sale on the Mesa campus. "A special thank you goes out to Richelle Mayfield, AT '13, for her efforts in organizing the ATSU participation," said Dr. McLeod.