ATSU offers Tucson youth an opportunity to learn about careers in healthcare
Posted: July 12, 2016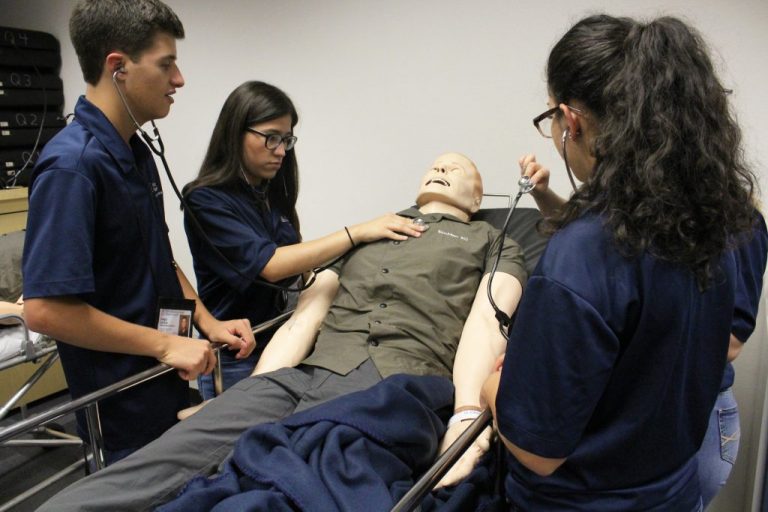 For children who come from economically disadvantaged communities, the opportunity for enhanced education can be limited. But thanks to a program called Med-Start spearheaded by the University of Arizona, Tucson-area high school students are getting the chance to explore careers in healthcare.
On Friday, July 8, A.T Still University hosted a group of 50 11th grade students who are part of the summer Med-Start program, and who have expressed an interest in a future healthcare career, providing them a behind-the-scenes look at different professions.
Department of Physician Assistant Studies faculty Michelle DiBaise, DHSc, MPAS, Jim Burkett, MS, PA-C, DFAAPA, and Gerry Keenan, MMS, PA-C, led simulated activities for students including a CPR game to teach the use of an automatic defibrillator (AED) and also gave students the chance to work with 3G simulated mannequins, an advanced patient simulator that can display neurological symptoms as well as physiological. Students were able to listen to heart and lung sounds as well as how to operate the mannequins. Tours were also offered by ATSU students and staff. 
Med-Start was created in 1969 by The University of Arizona's Office of Diversity and Inclusion in the College of Medicine. The program helps to improve healthcare in rural, reservation, and economically disadvantaged areas through the recruitment and training of students from these regions. 
The program acts as a liaison among students and Arizona healthcare institutions like ATSU, which are invited to host a group of students for one day during summer break.