ATSU named "2015 Great College to Work For" by The Chronicle of Higher Education
Posted: July 20, 2015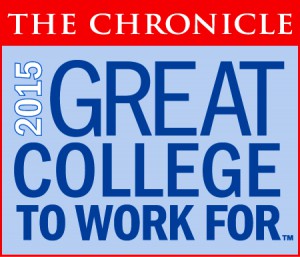 A.T. Still University of Health Sciences (ATSU) is one of the best colleges in the nation to work for, according to a new survey by The Chronicle of Higher Education.
The results, released today in The Chronicle's eighth annual report on The Academic Workplace, are based on a survey of 281 colleges and universities.
In all, 86 of the 281 institutions achieved "Great College to Work For" recognition for specific best practices and policies. Results are reported for small, medium, and large institutions, with ATSU included among the medium universities with 3,000 to 9,999 students.
ATSU won honors in two categories: compensation and benefits, and work-life balance.
"It is a tremendous honor to be recognized for such a distinguished tribute. ATSU is devoted to our internal community; and we are committed to fostering an environment where faculty, staff, and students feel valued, empowered, and supported both in and outside of the workplace," said ATSU President Craig M. Phelps, DO.
The survey results are based on a two-part assessment process: an institutional audit that captured demographics and workplace policies from each institution, and a survey administered to faculty, administrators, and professional support staff. The primary factor in deciding whether an institution received recognition was the employee feedback.
"The institutions that the Great Colleges program recognizes provide innovative educational experiences – while also offering their employees outstanding workplace experiences – and we are eager to help readers learn more about them," said Liz McMillen, The Chronicle's editor. "The selection process is rigorous and being named to the list is a tremendous accomplishment, but it also positions colleges and universities well to recruit the people that make them a success."