ATSU-MOSDOH welcomes 63 new dental students with White Coat Ceremony
Posted: July 21, 2022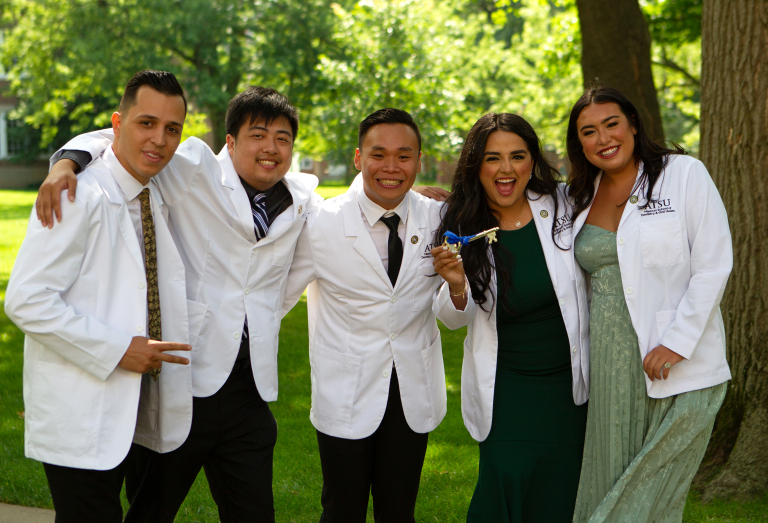 A.T. Still University's Missouri School of Dentistry & Oral Health (ATSU-MOSDOH) welcomed 63 members of the class of 2026 with a White Coat Ceremony held Friday, July 15, 2022, at Truman State University's Baldwin Hall in Kirksville, Missouri. 
Five of the new ATSU-MOSDOH students are from Missouri, and the class represents 22 states overall.
"The profession of dentistry is one of the most respected healthcare professions, and the doctor of dental medicine degree is one of the most coveted degrees in the world," said Dwight McLeod, DDS, MS, ATSU-MOSDOH dean and professor.
"Our dental education program is contemporary, innovative, and has strong components of social responsibility, health equity, and community service. It is truly rigorous, but absolutely rewarding. It will be a journey filled with excitement, disappointments, achievements, transformations, lifelong relationships, accomplishments, and the most rewarding aspect, the successful completion of the academic program at the close of four years."
ATSU-MOSDOH student Kelly Maddux, D2, president of the class of 2025, transferred the symbolic key for the cabin of A.T. Still, DO, to Blake Lewis, D1, of the class of 2026. The key is a symbol of the University's heritage, and also of the commitment current students have to supporting members of the incoming class.
Maddux told the class of 2026 to be proud of themselves for what they've done so far, and to embrace their classmates as members of an extended family.
"This is your moment. The bright, smiling faces next to you are ones you will get to know very well over the course of the next four years," Maddux said. "The shared experience of dental school forges the foundation of lifelong friendships, and though you all come from different states, backgrounds, and even have different degrees, you will grow to encourage, motivate, and love the individual uniqueness each individual brings to your class. The friends made during your dental school journey become your family away from home."
Norman Gevitz, PhD, senior vice president-academic affairs, said ATSU is dedicated to producing a cadre of broadly trained healthcare practitioners, who will be best equipped to provide care in their future communities.
"At ATSU, we love to innovate, and we can bring different health professionals together in our state-of-the-art simulation labs, in joint teaching, and team-based problem solving, both here and in community health centers, to enrich you, your DO student counterparts, and other health professionals in training, to produce distinctive, collaboration-ready practitioners," Dr. Gevitz said. 
Watch the ceremony here: