ATSU-MOSDOH students provide care for local veterans
Posted: November 21, 2016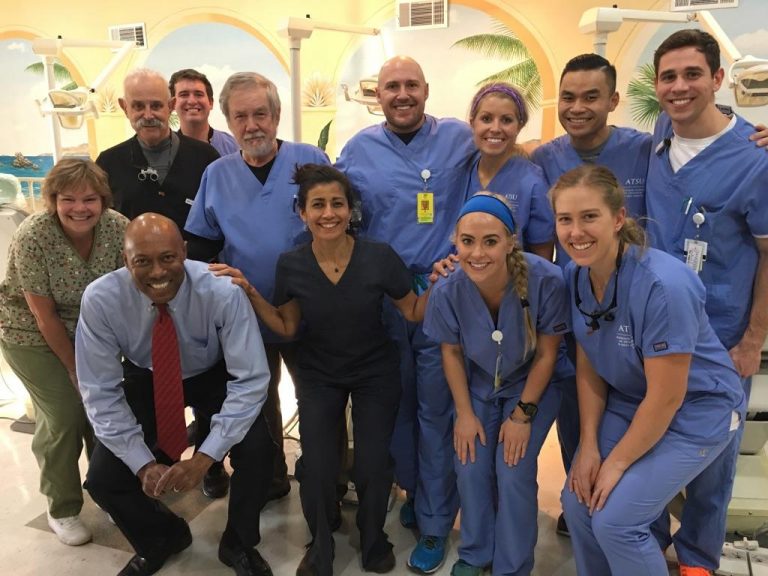 In honor of Veterans Day, a small team of faculty and third-year dental students representing both A.T. Still University's Missouri School of Dental & Oral Health (ATSU-MOSDOH) and the St. Louis Dental Education and Oral Health Center traveled to Dexter, Missouri, to provide oral healthcare for local veterans. The Nov. 10 event marked the second time ATSU-MOSDOH faculty and dental students have partnered with Heart to Heart International to offer dental care for local patients at the Smiles of Hope Dental Clinic at Lighthouse Church.
ATSU-MOSDOH faculty and staff who volunteered at the Dexter clinic provided oral healthcare services for 24 patients, which included approximately 15 veterans, and included a total of 107 teeth being extracted.
"Our veterans have sacrificed so much to safeguard our democracy at home and abroad," stated ATSU-MOSDOH Dean Dwight E. McLeod, DDS, MS. "Our faculty and students are honored to volunteer their time in support of our veterans and provide needed dental care. At ATSU-MOSDOH, we are deeply service-oriented, and we want to address the oral health needs within our communities."
A veteran himself, Michael Love, D3, was honored to participate in the oral healthcare day for veterans.
"The opportunity and relationship ATSU-MOSDOH has built with the community of Dexter, Missouri, is remarkable and provides a chance for us students to get out in the field and serve others. The added advantage of taking care of the needs of veterans with the help of faculty veterans was amazing," said Love. "Many of the veterans had traveled hours to receive care and had multiple teeth that needed attention. I think it meant a lot to the service men and women that they were being cared for by a fellow vet."
Love was not the only veteran who participated in the event to make a difference in Dexter. He was also joined by ATSU-MOSDOH students Shae Wilson and Peter Le and faculty members Herbert Silva, DMD, comprehensive care unit director, and Gary London, DDS, adjunct faculty, who also have served their country. Additional ATSU-MOSDOH and St. Louis Dental Education and Oral Health Center faculty and students who participated include: Dr. McLeod; Patricia Inks, RDH, MS, associate director, dentistry in the community/integrated community service partnerships; Poonam Jain, DDS, MPH, professor and interim assistant dean for clinical operations; Megan Sparks, D3; Christina Bennett, D3; Elizabeth Lewis, D3; and Matthew Scott, D3.