ATSU-MOSDOH students and faculty provide dental care in Dexter, Missouri
Posted: July 25, 2018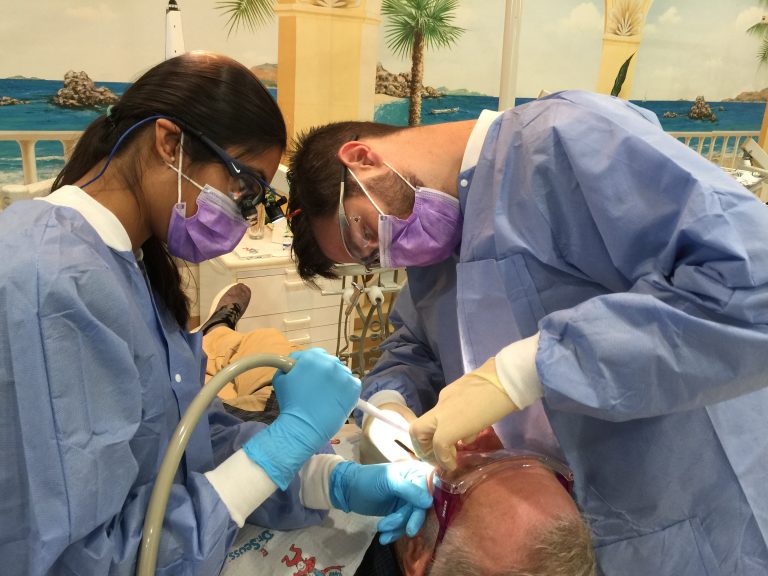 Students and faculty from A.T. Still University's Missouri School of Dentistry & Oral Health (ATSU-MOSDOH) traveled to Dexter, Missouri, June 23 to provide dental care for community members and veterans.
Seven D4 students participated in Smiles of Hope Dental Clinic by providing care, alongside ATSU-MOSDOH and St. Louis Dental Education and Oral Health Center faculty members Gary London, DDS, adjunct professor, Eric von Hoven, DMD, adjunct assistant professor, and Herbert Silva, DMD, comprehensive care unit director. Three D3 students attended to observe.
"I met eight patients and observed about 25 teeth extractions," says Nhu Tran, D3. "I learned a lot. I hope I can come next time."
For eight years, Lighthouse Church in Dexter, Missouri, has served the community through their Smiles of Hope Dental Clinic. Since fall of 2016, students from ATSU-MOSDOH have travel to Dexter, Missouri, three to four times a year to aid with treatment and extractions. ATSU-MOSDOH students participate in Smiles of Hope as a part of their Dentistry in the Community course. Dentistry in the Community is initiated and coordinated by Patricia Inks, RDH, MS, associate director.
Dentures for Veterans, ATSU-MOSDOH's community service project that was started by Dr. Silva, evolved from Dentistry in the Community. Dentures for Veterans has a heavy focus on providing oral healthcare to patients with limited access, particularly veterans. Providing care in Dexter, St. Louis, and Kirksville, the program has provided dentures for 49 veterans.
"As a veteran, I was excited to participate in the veteran's denture program in Dexter, Missouri," says Tiffany Pinkston, D3. "Attending this event was a truly rewarding, humbling, and educational experience."