ATSU-MOSDOH Student Ambassador Spotlight: Chantel Eckland
Posted: March 10, 2022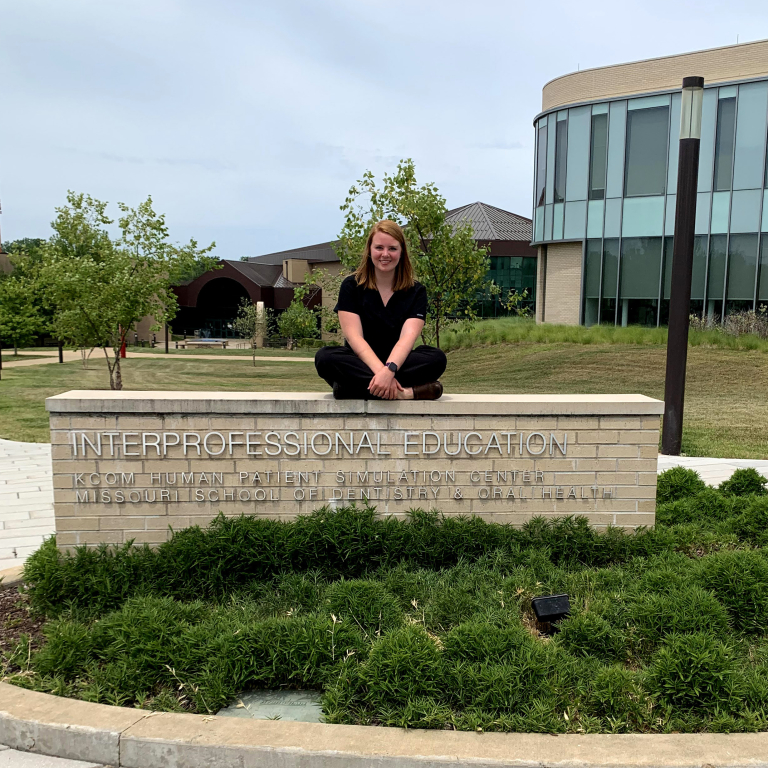 Chantel Eckland, D2, poses on ATSU's Kirksville, Missouri, campus
Each month, A.T. Still University's (ATSU) Admissions Office in Kirksville, Missouri, will select student ambassadors to recognize and showcase. Student ambassadors are second-year students who speak and meet with prospective ATSU-Missouri School of Dentistry & Oral Health (ATSU-MOSDOH) students. 
ATSU-MOSDOH Student Ambassador Spotlight: Chantel Eckland
Chantel Eckland, D2, is originally from Juneau, Alaska, and holds a bachelor of science degree in biochemistry. 
In addition to her role as a student ambassador, Eckland is a member of Student Government Association, Student National Dental Association, American Student Dental Association, American Dental Education Association, Surgical Skills Club, Still Caring Health Connection, and Hope's Kitchen.
Her membership in many organizations allows her opportunities to develop skills she'll need in the future.
"I am always looking for opportunities to grow as a leader," Eckland said. "I've been fortunate to have many opportunities at ATSU to work with a diverse group of health professions students, finding amazing role models within my peers and faculty mentors. Through Student Government Association, the Student Ambassadors program, and various club leadership positions, I have learned so much about coordinating, listening, and supporting a team."
When she has free time, Eckland enjoys attending spin class, going on walks or hikes, paddle-boarding, and, most of all, reading. 
In deciding to come to Kirksville, Missouri, from her home in Alaska, Eckland credited ATSU-MOSDOH student ambassadors she worked with, and said they inspired her to become an ambassador herself.
"They showed me who my peers would be and shared amazing things about this program," Eckland said. "After being accepted, I was so excited to apply as a student ambassador because I wanted to share what the ATSU-MOSDOH family entails with prospective students the way it was shared with me. One of my favorite aspects of being a student ambassador is encouraging and sharing tips with pre-health students to help make the path to health professional school more attainable."
Congratulations, Chantel Eckland, for being our ATSU-MOSDOH Student Ambassador Spotlight!