ATSU-MOSDOH provides care for veterans in dental mission
Posted: May 12, 2017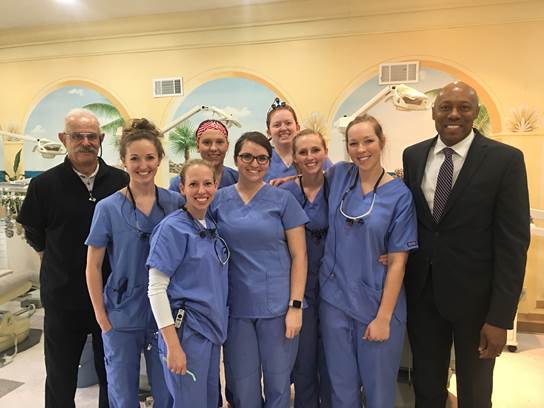 Pictured from left to right: Herbert Silva, DMD; Megan Ott, D3; Theresa Jacquin, D3; Brigid Verhoff, D3; Alyssa Ruopp-Baker, D3; Maryann Forsell, D3; Chelsea Schmitz, D3; Ashton Pargman, D3; ATSU-MOSDOH Dean Dwight McLeod, DDS, MS
A.T. Still University-Missouri School of Dentistry & Oral Health (ATSU-MOSDOH) students, along with St. Louis Dental Education and Oral Health Center Comprehensive Care Unit Director Herbert Silva, DMD, and ATSU-MOSDOH Dean Dwight McLeod, DDS, MS, traveled to the Lighthouse Church in Dexter, Missouri on Wednesday, May 10, 2017 to provide free oral healthcare to patients with limited access to dental care.
A total of 53 patients were treated, and 186 teeth were extracted. Many of the patients suffered from acute and chronic dental pain. Some of the patients traveled as far as 300 miles to for the services provided by ATSU-MOSDOH. Several veterans were among the patients seen.
This dental mission is part of ATSU-MOSDOH's community service project that was started by Dr. Silva. "Dentures for Veterans" has a heavy focus on providing oral healthcare to patients with limited access, particularly veterans. A total of seven student volunteers were on hand to help with providing care.
"It was an excellent essential experience for our seven student volunteers and a great community service for the underserved population of Dexter and the greater regions," said Dr. McLeod