ATSU-MOSDOH hosts commencement, celebrates fifth graduating class
Posted: May 17, 2021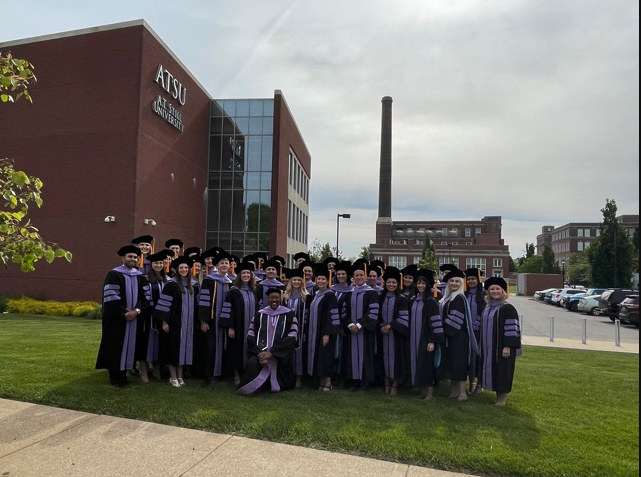 A.T. Still University's Missouri School of Dentistry & Oral Health (ATSU-MOSDOH) celebrated its class of 2021 with commencement ceremonies Friday, May 14.
ATSU-MOSDOH's fifth graduating class included 42 students who earned doctor of dental medicine degrees, including five who also received master of public health degrees. Graduates represented 18 states.
ATSU-MOSDOH Dean Dwight McLeod, DDS, MS, reminded graduates of their commitment to serving the underserved and addressing healthcare disparities.
"As new healthcare providers and leaders, you will have the professional power to influence and positively change the population you serve through adhering to your professional oath of equal and just treatment for all patients," Dr. McLeod said. "You have a moral and social responsibility to treat all patients equally and advocate for their well-being. You can make a significant impact in helping to reduce the inequities and unjust treatment in healthcare, and undesirable social determinants of health that for decades have devastated generations of underserved populations in our nation."
Those sentiments were echoed by commencement speaker Gary Harbison, MS, Missouri Coalition for Oral Health executive director, who encouraged graduates to seek change.
"The harsh reality is as a county we have left a large swath of the public out. Missouri and much of the country is in an unacknowledged oral health crisis," he said. "It is easy to look at the way things are and assume these conditions are not correctable, part of the way the world works, and somehow unmovable, or at least nearly impossible to change. In fact, the way things are is a result of many decisions by many policymakers over many years. We are fortunate to live in a country with mechanisms for change. As frustrated as we are with the process, it actually works; or it can work if we make it work.
"Policy makers are typically eager to hear from young professionals. They are eager because you are key constituents. It is in collaboration with others we can move the health system in a truly beneficial direction."