ATSU-MOSDOH holds St. Louis clinic groundbreaking ceremony
Posted: April 30, 2014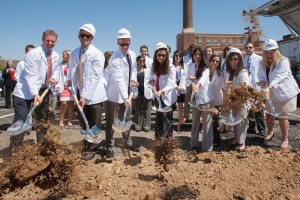 Members of the ATSU-MOSDOH inaugural class turn the soil at the site of the new clinic.
ST. LOUIS – A groundbreaking ceremony for A.T. Still University-Missouri School of Dentistry & Oral Health's (ATSU-MOSDOH) new St. Louis, Missouri, dental education and oral health clinic was held on Friday, April 25, 2014. The new 79,000-square-foot building will be located at the intersection of Truman Parkway and Park Avenue, a short distance east of La Fayette Square.
"Not only will this school provide an incredible opportunity for students to get hands-on, real world experience in a clinic setting, but it will also provide oral health services that are in critical need in this community," said Missouri Gov. Jay Nixon.
Remarks were also made by several St. Louis dignitaries, including Mayor Francis Slay, as well as ATSU President Craig Phelps, DO, '84, and Christopher Halliday, DDS, MPH, ATSU-MOSDOH dean. Grace Hill Health Centers Inc., represented on stage by Alan Freeman, president and CEO, will manage the clinic in partnership with ATSU.
"On these grounds you will see individuals, families, and communities being taken care of," said Dr. Phelps.  "When we see young men and women from these neighborhoods fulfilling their dream to become a healthcare professional, working in this clinic, and returning to this community to provide healthcare to the people of St. Louis and Missouri, we will have reached our ultimate goal."
The groundbreaking concluded with a ceremonial turning of the soil by the stage party, ATSU's Board of Trustees, and the 42 members of ATSU-MOSDOH's inaugural class of 2017.
Musick Construction and Cannon Design, both of St. Louis, will serve as  the general contractor and architect for the project, respectively.  For more information on the new clinic, visit www.atsu.edu/mosdoh.
Photo album here.