ATSU-MOSDOH holds commencement and military commissioning ceremony
Posted: May 25, 2018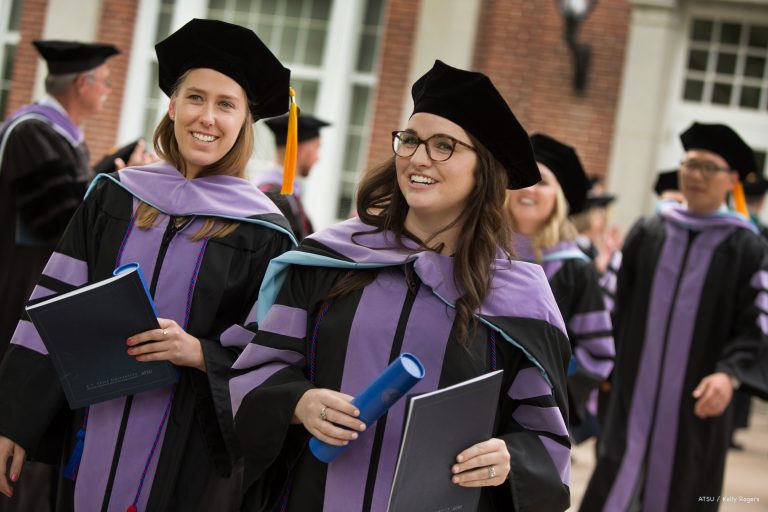 A.T. Still University's Missouri School of Dentistry & Oral Health (ATSU-MOSDOH) graduated a new class of dentists on May 19, 2018, in Kirksville, Missouri. A total of 41 new dentists walked across the stage at Baldwin Hall Auditorium at Truman State University.
ATSU-MOSDOH was founded to address the disparities in oral healthcare in Missouri and across the nation. Students spend their first and second year studying basic sciences and principles of patient care in the classroom, along with dental simulation exercises, in Kirksville. During their third and fourth years, they transition to a clinical environment and serve patients at the St. Louis Dental Education and Oral Health Center in partnership with Affinia Healthcare.
Prior to commencement, a military commissioning ceremony was held in the Interprofessional Education Building, on ATSU's Missouri campus. Two graduates from the class of 2018 will join the military forces. William Frei, DMD, '18, will serve in the Army, and Michael Love, DMD, '18, will serve in the Air Force.
"Students pursuing a military career are held in high regard," says ATSU-MOSDOH faculty member Herbert Silva, DMD, veteran and master of ceremony for the commissioning of Captain Frei and Captain Love. "Their choice to pursue a career in the military will not only foster their continued development as dentists but also develop already demonstrated leadership skills."
The class of 2018 achieved a 100 percent pass rate on the Western Regional Examining Board examinations. They are the second class to achieve the 100 percent pass rate. During their four years, they performed more than 2,100 hours of community service and served more than 10,000 underserved individuals. Three of the graduating students received their master of public health degree.
"As your amazing 100 percent pass rate on the clinical boards attest, you have the knowledge and skills to begin your professional life," says Ann M. Boyle, DMD, MA, associate vice president, academic affairs, and commencement speaker. "You are ready to become good dentists."
ATSU-MOSDOH class stats:
41 graduates
25 females
16 males
13 from Missouri
16 states represented