ATSU-MOSDOH graduates its inaugural class
Posted: June 11, 2017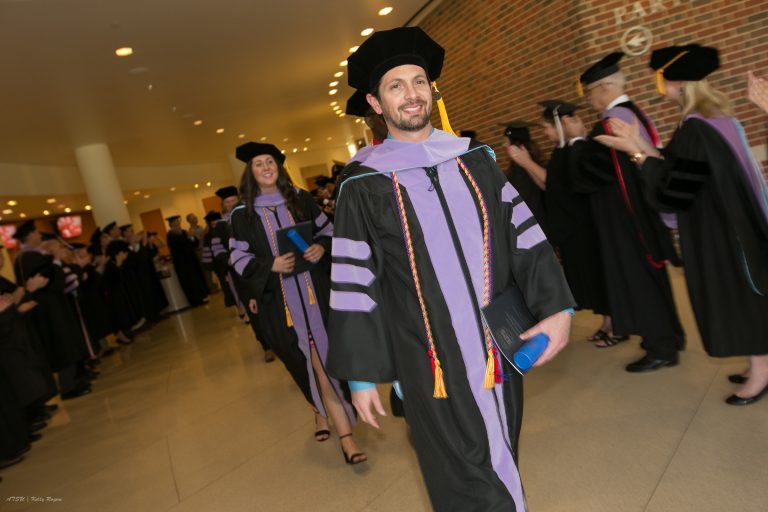 A.T. Still University's Missouri School of Dentistry & Oral Health (ATSU-MOSDOH) graduated its inaugural class June 10, 2017 at Blanche M. Touhill Performing Arts Center at the University of Missouri–St. Louis. A total of 42 new dentists walked across the stage to help improve access to oral healthcare in the communities they will serve.
"ATSU is grateful to everyone in St. Louis and throughout Missouri for their support of our dental students, faculty, staff, community outreach initiatives, and the St. Louis Dental Center," said ATSU President Craig M. Phelps, DO, '84. "The University extends a heartfelt congratulations to our partnering community health centers, especially Affinia Healthcare, for partnering with ATSU to develop one of the country's most innovative healthcare education programs."
ATSU-MOSDOH was founded to address the disparities in oral healthcare in Missouri and across the nation. Students spend their first and second year studying basic sciences and principles of patient care in the classroom, along with dental simulation exercises, in Kirksville. During their third and fourth years, they transition to a clinical environment and serve patients at the St. Louis Dental Education and Oral Health Center in partnership with Affinia Healthcare.
The inaugural class earned a 100 percent pass rate on their dental licensing examinations. Many of the graduates accepted professional careers in the public and private sectors. In addition to that, 15 graduates will begin advanced dental training programs in specialties including pediatric dentistry, endodontics, and oral surgery.
"ATSU-MOSDOH has succeeded in its promise to graduate 42 competent, talented oral healthcare professionals who will become leaders in their communities, engage in lifelong learning, work diligently to reduce the disparity of access to oral healthcare across the state of Missouri and Midwest regions, and take their place in history as the School's inaugural class and first alumni," said ATSU-MOSDOH Dean Dwight McLeod, DDS, MS.