ATSU-MOSDOH class of 2018 completes WREB examinations with 100 percent pass rate
Posted: March 27, 2018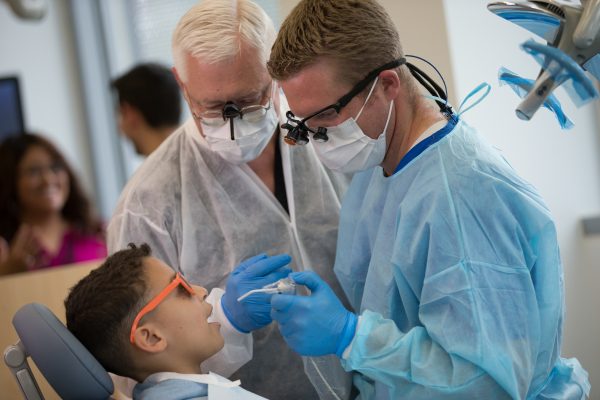 A.T. Still University-Missouri School of Dentistry & Oral Health (ATSU-MOSDOH) Dean Dwight E. McLeod, DDS, MS, is pleased to announce a 100 percent pass rate for ATSU-MOSDOH's class of 2018 during the March 2018 Western Regional Examining Board (WREB) examinations. This announcement marks the second time ATSU-MOSDOH students have completed the examination with a 100 percent pass rate; the School's inaugural class of 2017 also completed the WREB examination with a 100 percent pass rate.
WREB is a national dental and dental hygiene testing agency whose mission is to develop and administer clinical competency assessments for state agencies that license dental professionals. Two states, Delaware and New York, do not use clinical testing agency services; these states have licensure requirements specific to their state.
"The class of 2018 is to be commended for the remarkable professionalism and compassion each student displayed for the patients, staff, and their peers," says Dean McLeod. "ATSU-MOSDOH administration, faculty, and staff, and St. Louis Dental Center partner, Affinia Healthcare and staff, worked tirelessly to ensure the successful performance of the class."
Poonam Jain, BDS, MS, MPH, ATSU-MOSDOH vice dean, clinical education, operation and community partnerships adds, "In preparation for the WREB examinations, ATSU-MOSDOH faculty and staff and Affinia Healthcare staff worked closely with students to prepare them for the various examination components, ensured examination logistics ran smoothly, and provided moral support and encouragement throughout the process."
The completion of WREB examinations brings D4 students one step closer to degree completion. ATSU-MOSDOH's class of 2018 will graduate May 19, 2018, in Kirksville, Missouri. Commencement ceremonies will be held at Truman State University's Baldwin Hall Auditorium beginning at 2:00 p.m.
ATSU-MOSDOH was founded in 2013 to address oral healthcare disparities in Missouri and across the nation. Dental students spend their first and second years studying basic sciences and principles of patient care in the classroom, along with dental simulation exercises, on the University's Kirksville, Missouri campus. During their third and fourth years, dental students transition to a clinical environment and serve patients at the St. Louis Dental Education and Oral Health Center, located at 1500 Park Ave., St. Louis, Missouri, in partnership with Affinia Healthcare
By graduating dentists who have an in-depth understanding of and a desire to serve populations in need, ATSU-MOSDOH will increase access to and services for vulnerable populations. ATSU-MOSDOH graduates earn a doctor of dental medicine degree and a certificate in public health with a dental emphasis.