ATSU-MOSDOH celebrates class of 2024 with White Coat Ceremony
Posted: July 19, 2021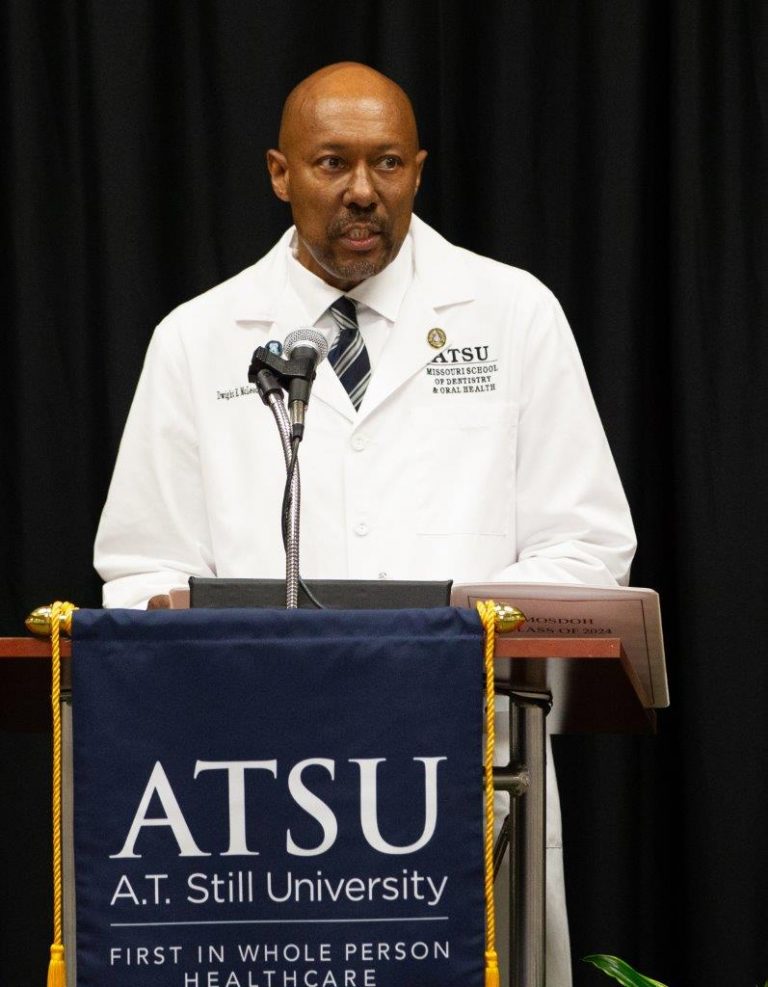 A.T. Still University's Missouri School of Dentistry & Oral Health (ATSU-MOSDOH) celebrated the class of 2024 with a White Coat Ceremony on Friday, July 16, 2021.
While this ceremony would typically be held at the start of the students' first year, the event was delayed due to the COVID-19 pandemic.
"Members of the class of 2024, you entered the ATSU-Missouri School of Dentistry & Oral Health in the middle of a pandemic. Our traditional pomp and circumstance around your arrival did not happen in the traditional manner," said Dwight McLeod, DDS, MS, ATSU-MOSDOH dean and professor.
"As a class, you have demonstrated resilience and stamina. You did not waver in your tenacity to succeed, even in the midst of all the chaos, unknown, and difficulties that were occurring around you and in our nation, as you learned remotely. You mastered the most rigorous year of dental school, in which all of us can unanimously agree is the toughest period of your young lives. Your journey thus far has not been easy. I encourage you to continue to persevere, remain focused, and stay the course."
Students recited the "Oath to the Profession" and received their first white coat, symbolizing their commitment and responsibility to their profession and future patients.
Madison Williams, D3, ATSU Student Government Association-Missouri past president, provided the ceremonial key transfer to Jacob Palmer, D2, representing the class of 2024.
"I commend you for doing the absolute hardest thing you will ever do, during the absolute hardest time you could ever do it," Williams said. "Going through your first year of dental school during a pandemic made many aspects more difficult for you, yet here you stand.
"Everything that you have done, and all of your yesterdays, prepares you for all of your tomorrows. When the time comes to transition, you will be ready."