ATSU-MOSDOH celebrates class of 2022 with commencement ceremony in Kirksville, Missouri
Posted: May 20, 2022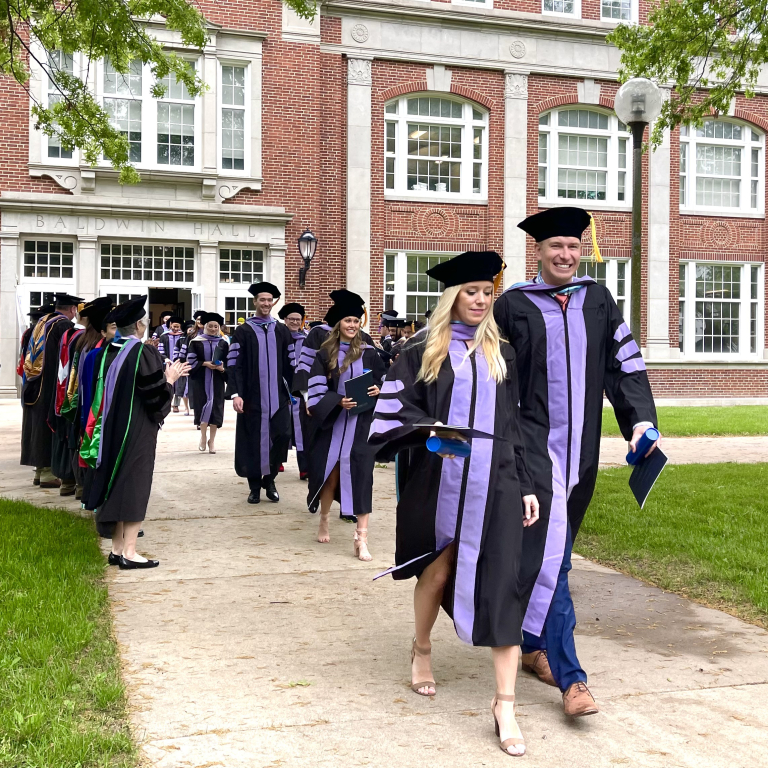 ATSU-MOSDOH graduates exit Baldwin Hall at Truman State University in Kirksville, Missouri, following commencement.
A.T. Still University's Missouri School of Dentistry & Oral Health (ATSU-MOSDOH) celebrated 41 students becoming doctors of dental medicine during a commencement ceremony Friday, May 20, 2022, in Kirksville, Missouri. 
Additionally, four ATSU-MOSDOH graduates also received their master of public health degrees. 
ATSU-MOSDOH Dean Dwight McLeod, DDS, MS, reminded graduates of the work of A.T. Still, DO, who founded a branch of medicine which supports access to care for all people.
"Many of you had acceptances from other dental schools across our great nation, but four years ago you selected A.T. Still University-Missouri School of Dentistry & Oral Health. In doing so, you became a member of one of the greatest health professions institutions – A.T. Still University," Dr. McLeod said. "The fact you stand proudly here today is not by chance, but because you knew you were joining the founding school of osteopathic medicine, with its strong, steadfast values dating back to 1892, and its bold mission, vision, and goals."
Bertha Thomas, member, ATSU Board of Trustees, emphasized how graduates have become part of a rich heritage of whole person healthcare, and the strength that comes from carrying this approach forward into their careers.
"Each ATSU program integrates whole person healthcare into its curriculum, and emphasizes development of competencies in interprofessional collaboration, cultural proficiency, critical thinking, social responsibility, and interpersonal skills," she said. "This approach begins with a belief in the interactions of the body, mind, and spirit, and continues with an understanding of how these dimensions may be treated as one." 
Alan Freeman, DMgt, MBA, FACHE, delivered the commencement address. Dr. Freeman is retiring after 16 years as CEO of Affinia Healthcare, a community health center organization in St. Louis.
A leader in healthcare management and an advocate for health equity, Dr. Freeman and the federally qualified healthcare center he leads, Affinia Healthcare, collaborated with ATSU to form a partnership to provide access to comprehensive oral healthcare for the disadvantaged and underserved communities of St. Louis, while creating opportunities for essential educational experiences for dental students in their two final years of the dental program. The partnership, referred to as the St. Louis Dental Center, is unique and innovative and is the first of its kind in the U.S. 
ATSU President Craig Phelps, DO, '84, presented Dr. Freeman with an honorary doctor of laws degree in recognition of his service and dedication to community health.
Dr. Freeman urged graduates to provide compassionate care to their future patients, many of whom might be struggling in ways beyond what would normally be addressed in a dental visit.
"In your respective careers in dentistry, I am confident the following will be your reality: People who have less than they need, and who may be capable of offering you less than what you may need, will be seated in your waiting rooms and operatories. Practicing in a community health center isn't a prerequisite for this experience, but of course it is a well-lighted pathway. Wherever you go, whoever, wherever you are, you will experience this, and I trust you can take with you the notion of being struck by the lightning of compassion and concern for your patients and their circumstances," Dr. Freeman said.
Norman Gevitz, PhD, senior vice president-academic affairs, said ATSU-MOSDOH graduates possess the characteristics and qualities necessary to bring about positive change for those they serve.
"Graduates, you now have the tools and capacity to make a difference in your communities, and in the lives of the people you serve. The degree each of you receive today is not just a credential. It is a testament to your proficiency and competency in mastering a range of difficult subjects," Dr. Gevitz said. "Congratulations. We are proud of you."