ATSU-MOSDOH announces associate dean for St. Louis dental clinic
Posted: April 7, 2014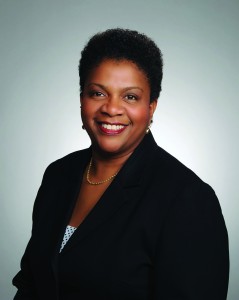 KIRKSVILLE, Mo. – Christopher G. Halliday, DDS, MPH, dean of A.T. Still University's Missouri School of Dentistry & Oral Health (ATSU-MOSDOH) is pleased to announce Kim Butler Perry, DDS, MSCS, has accepted the role of associate dean, clinical operations/director of dental services for the University's new dental education and oral health clinic in St. Louis. The clinic is a pioneering collaboration between the University and Grace Hill Health Centers, Inc. (GHHC), its operations partner. Dr. Perry will assume her duties with the University and GHHC beginning April 21, 2014.
"Dr. Perry's extensive experience in academia, public health, and clinical dentistry will augment well the innovative clinical training ATSU-MOSDOH students will receive," says Dean Halliday. "She will be a very welcome addition to the School, and her extensive knowledge of clinical dentistry and dental education will greatly benefit the community served by ATSU-MOSDOH students and Grace Hill Health Centers."
"GHHC is delighted Dr. Perry is coming on board," said Alan Freeman, GHHC president and CEO. "This multifaceted executive role is key, and we believe she is a perfect fit."
Dr. Perry most recently served as associate dean of clinical affairs and associate professor for the Office of Restorative Sciences at Meharry Medical College School of Dentistry in Nashville, Tenn. She received her DDS in 1988 from the University of North Carolina at Chapel Hill School of Dentistry, Chapel Hill, N.C., and in 2006 was selected as the first dental faculty member in the United States into a NIH Roadmap Clinical and Translational Research Scholar Master's Program. Dr. Perry completed her master of science in clinical science degree with distinction from the University of Texas Southwestern Medical Center in Dallas, Texas.
Dr. Perry's experience spans more than 25 years in leadership and clinical care in oral health, in addition to a broad range of research focusing on health disparities, health promotion disease prevention, and vulnerable children. She has received numerous awards and recognitions throughout her career including several Army commendation and achievement medals focused on dentistry and service.
ATSU-MOSDOH's St. Louis dental education and oral health clinic will provide comprehensive, state-of-the-art oral healthcare in a community health center setting for some of Missouri's most underserved, including those without access to care, and serve as a "home" for the School's third- and fourth-year student clinical experiences.
###
A.T. Still University's Missouri School of Dentistry & Oral Health (ATSU-MOSDOH) was founded to address the disparities in oral healthcare in Missouri and across the nation. One of only two dental schools in the state, ATSU-MOSDOH will graduate a new generation of community-minded dentists who have an in-depth understanding of and a commitment to serving at-risk populations. For more information, visit www.atsu.edu/mosdoh.