ATSU-MOSDOH and Northeast Missouri Health Council partner to provide dentures for Kirksville veterans
Posted: May 21, 2018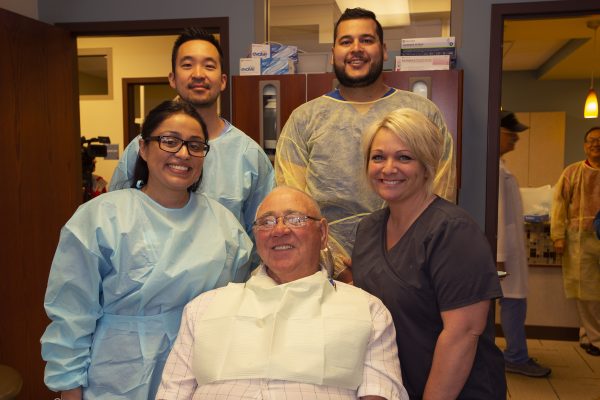 Veteran Larry Sparks smiles with his new dentures and his team, from left: Maria Angle, David Kang, Marcos Betancourt, Carie Fouch.
A.T. Still University's Missouri School of Dentistry & Oral Health (ATSU-MOSDOH), in partnership with Northeast Missouri Health Council, gave 12 Kirksville area veterans a reason to smile Saturday, May 12, 2018. The local veterans received free dentures after a multi-step process that included screening and extractions by Northeast Missouri Health Council staff. Fittings for dentures were done by faculty and students from ATSU-MOSDOH as part of the School's Dentures for Veterans project. The project, which began in 2017 to commemorate ATSU's 125-year heritage, is an opportunity to give back to the community.
"I'm going to see my grandkids," says Edwin Bachman, a denture recipient. "I can't wait for them to see me now."
Bachman received care from third-year ATSU-MOSDOH student Jenna Haganman throughout the process. Working with the same student during four separate visits built strong bonds between student and veteran. One veteran brought flowers for his student on denture delivery day as a thank you for all she had done.
"These veterans were in desperate need," says Dr. Shea. "This project has been a great experience for all involved, and by volunteering their own time, students have become more invested in helping the veterans."
Project facilitator Herbert Silva, DMD, joined forces with Dwight McLeod, DMD, dean of ATSU-MOSDOH, and Andy Grimm, CEO of Northeast Missouri Health Council, to bring this project to fruition. Volunteer faculty members from Kirksville and St. Louis worked together to coordinate and supervise the project. Faculty members from St. Louis included Joseph Shea, DDS; Emilio Jimenez Colon, DMD; Karl Shanker, DDS; Eric Von Hoven, DMD; Matthew Greaves, DDS; Gerard Krueger, DDS, MS, FACP; Michael Abels, DDS; and Maria Wong, DMD. Participating Kirksville faculty members included Robert Collinge, DDS; Anthony Van Soest, DMD; Ammar Musawi, MDS, BDS; and Rami Al Saidi, BDS.
"It gives us great joy to know our services are making a difference in the lives of those who have given so much," says Grimm. "Northeast Missouri Health Council considers it a privilege to serve our veterans through this partnership with ATSU."
Third- and fourth-year dental students led teams that provided care for veterans. Holding this project in Kirksville allowed first- and second-year dental students the opportunity to participate in patient care. For many who volunteered, it was their first patient encounter.
Providing dentures for these veterans at no cost was a team effort. Christy Treasure, clinic manager with Northeast Missouri Health Council, worked with patients prior to the process and will facilitate post-procedure care. Lab technician Carie Fouch, from First Impressions, created all dentures used in the project. Additional partners included Kulzer, Dental Arts Laboratories Inc., and Henry Schein.