ATSU military students hold Remembrance Ceremony
Posted: September 11, 2013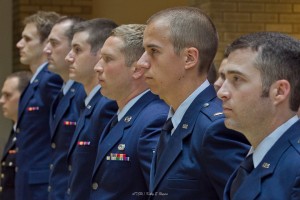 Students,  faculty, staff, and community members gathered in the Centennial Commons on Sept. 11, 2013, for a remembrance ceremony to honor those who lost their lives 12 years ago on Sept. 11, 2001.
The annual ceremony was put on by the A.T. Still University-Kirksville College of Osteopathic Medicine (ATSU-KCOM) Student Association of Military Osteopathic Physicians and Surgeons (SAMOPS).  Lt. Matt Nemergut, OMS I, U.S. Air Force, was master of ceremonies. Remarks were given by 2nd Lt. Justin Grisham, OMS II, U.S. Army.
The colors were presented by Truman State University ROTC cadets.
ATSU-KCOM faculty members Andrew Lovy, DO, adjunct professor, and David Todd, DO, assistant professor, Department of Osteopathic Manipulative Medicine, were recognized for their service, along with others who have served in the U.S. military or public service.
ATSU-KCOM has 70 students who are members of SAMOPS.