ATSU-KCOM's 2023 commencement introduces 156 new doctors of osteopathic medicine
Posted: May 20, 2023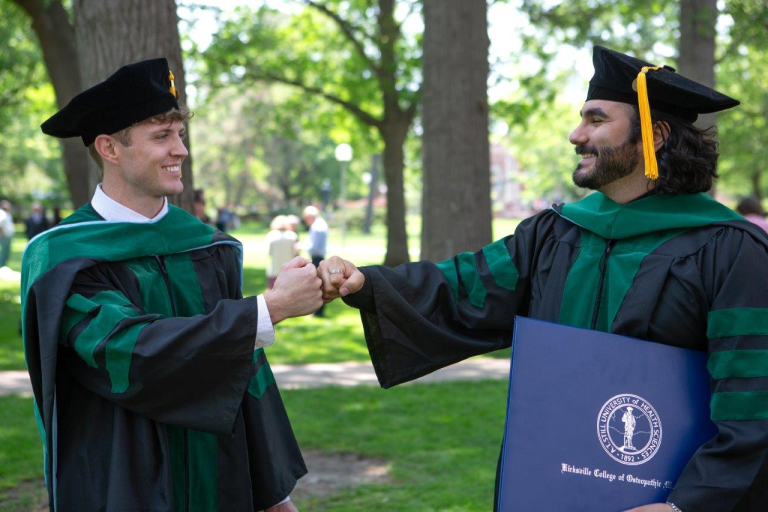 A.T. Still University's Kirksville College of Osteopathic Medicine (ATSU-KCOM), the founding school of osteopathic medicine, marked the graduation of students from the class of 2023 with a commencement ceremony May 20 in Kirksville, Missouri.
ATSU-KCOM awarded 156 students with their doctor of osteopathic medicine degrees, while 10 students graduated from ATSU-KCOM's master of science in biomedical sciences program.
Lex Towns, PhD, professor, anatomy, served as grand marshal and was awarded an honorary doctor of osteopathic education degree. Dr. Towns is retiring following 50 years of academic service to ATSU-KCOM.
Robert A. Cain, DO, FACOI, FAODME, president and CEO of the American Association of Colleges of Osteopathic Medicine, delivered the commencement address, and was also awarded an honorary doctor of osteopathic medicine degree.
Speakers included Norman Gevitz, PhD, senior vice president-academic affairs, with the greeting, ATSU-KCOM Dean Margaret Wilson, DO, '82, with the welcome and introduction, Jonathan Cleaver, DO, FAOCD, FAAD, FASMS, '08, with the Board of Trustees greeting, and Christine Perry, DO, '03, president, Kirksville Osteopathic Alumni Association (KOAA), with the KOAA induction.
ATSU President Craig Phelps, DO, '84, provided the closing remarks.
The ceremony also included the Pledge of Allegiance, led by Zulfiqar Ahmad, PhD, professor, biochemistry, and chair of ATSU-KCOM's faculty senate, and a performance of "America the Beautiful" by ATSU's student a capella group, the MEDleys.
Watch the complete ATSU-KCOM 2023 commencement ceremony here.