ATSU-KCOM welcomes 168 members of class of 2025 with White Coat Ceremony
Posted: July 13, 2021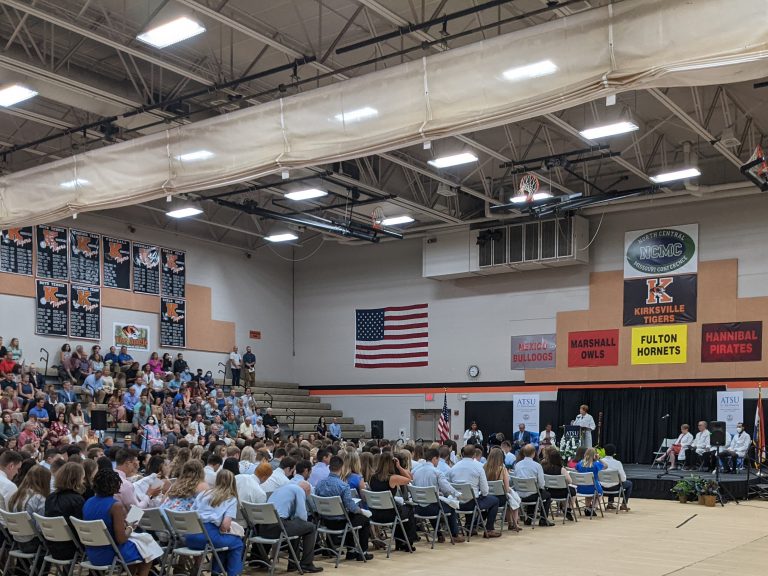 A.T. Still University's Kirksville College of Osteopathic Medicine (ATSU-KCOM) welcomed the class of 2025 with a White Coat Ceremony on Saturday, July 10, 2021.
ATSU-KCOM's class of 2025 consists of 168 students, selected from a pool of 5,323 applications. Students represent 25 states and Ontario, Canada, with 57 from Missouri, 19 from Iowa, 13 from both Illinois and Minnesota, nine from Utah, eight from both Kansas and Michigan, and seven from both Texas and Wisconsin. Ten of the students received their undergraduate degrees from Truman State University in Kirksville, Missouri.
"We are here today because a man, Andrew Taylor Still, had a vision to change the face of medicine. He was a man who suffered many personal losses, which led him to develop a new philosophy of care, focusing on restoring health and wellness," said Margaret Wilson, DO, '82, ATSU-KCOM dean and professor. "In 1892, he started the first school of osteopathic medicine, the American School of Osteopathy, and now, here we are."
Students recited the "Osteopathic Pledge of Commitment" and received their first white coat, symbolizing their dedication and responsibility to their profession and future patients.
Rachel Maibach, OMS II, ATSU-KCOM Student Government Association president, provided the ceremonial key transfer to Taurin Hughes, OMS I, representing the class of 2025.
"To study medicine is an amazing goal. As you are going through it, your passion and dedication are going to pay off. You will impact many lives," Maibach said.
"This love is admirable, and I encourage you to hold it tightly. As you head into your medical career, may your goal be first and foremost to love people and to seek health."