ATSU-KCOM students mark transition to clinical rotation sites for third and fourth years of program
Posted: May 5, 2023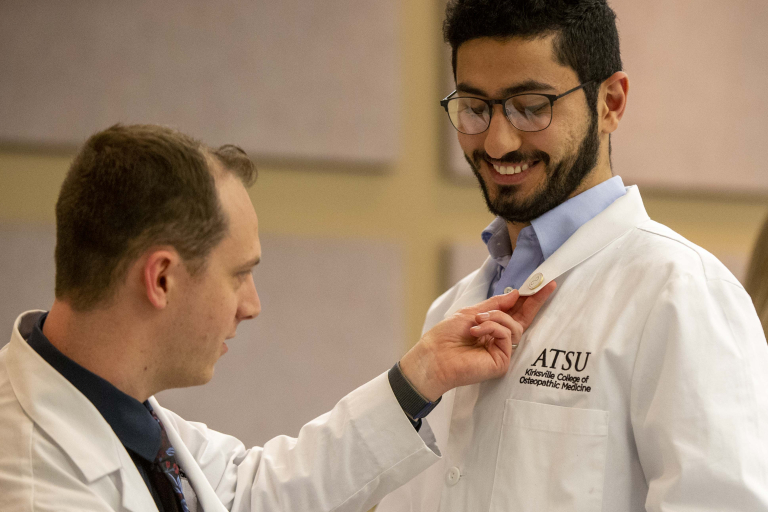 As part of a ceremony marking their transition to clinical rotation sites, ATSU-KCOM students were inducted into The Arnold P. Gold Foundation Gold Humanism Society during a pinning event.
A.T. Still University-Kirksville College of Osteopathic Medicine (ATSU-KCOM) students gathered Thursday, May 4, 2023, for a ceremony marking their transition from second-year students on the Missouri campus to third-year students heading out to clinical rotation sites across the country.
Keynote remarks were delivered by Kent Campbell, DO, '83, who recently retired as associate dean and assistant professor. Melissa Stuart, PhD, microbiology chair, professor, provided the faculty farewell, and Jeff Davis, DO, CMD, '00, associate dean, assistant professor, clinical affairs, gave a welcome to clinical rotations. 
ATSU-KCOM Dean Margaret Wilson, DO, '82, presented opening and closing remarks of encouragement to the students.
"Always remember where you came from. You're ATSU-KCOM. You're going to be outstanding physicians, you're compassionate, dedicated, you have all the skills and knowledge, and we wish you the best," Dr. Wilson said.
Students also took part in a pinning ceremony marking their membership in the Arnold P. Gold Foundation Gold Humanism Honor Society, an organization which champions humanism in healthcare. 
Additionally, students read the KCOM Class of 2025 Oath, which they developed together during their first week on campus and reads as follows:
As we enter the study of osteopathic medicine we will uphold the founding tenets of osteopathy and pillars of professionalism instilled in us at A.T. Still University-Kirksville College of Osteopathic Medicine.
We pledge to be leaders by example for colleagues and patients alike by recognizing the values for multiple perspectives and utilizing all of the resources available to us.
We commit to using our osteopathic education and experience to treat all ailments that are within our knowledge and to continuously seek answers for any that are outside our scope of expertise. 
We believe in and will advocate for access to quality, comprehensive, and inclusive care for all by being a trusted patient resource.
We commit ourselves to collaborate within the medical community while working in pursuit of improving the medical standard.
We wholeheartedly dedicate ourselves to evidence-based medicine and ethical decision making with the solemn understanding that our future patients depend on the skills and knowledge we will acquire. 
We will advocate for and uphold the dignity of all patients. We first will do no harm and second seek to actively do good in our society, remembering vulnerable populations and finding ways to right injustice.
We will actively work to empower our patients to achieve health and wellness in all aspects of their lives. We pledge to practice humility and compassion, and remind ourselves of the trust and responsibility placed in us as physicians.