ATSU-KCOM students host annual Teddy Bear Clinic
Posted: March 22, 2018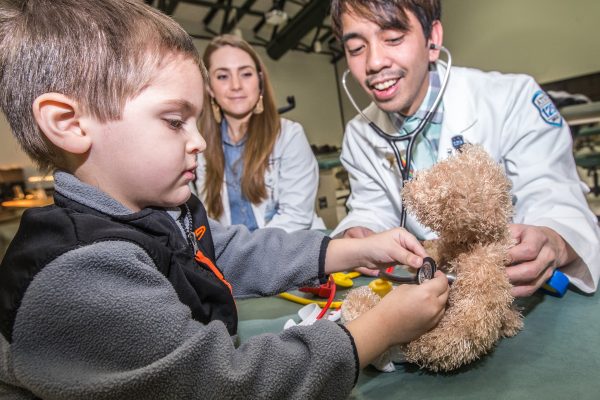 On Friday, Feb. 16, students from Alpha Phi Omega, a service fraternity at A.T. Still University's Kirksville College of Osteopathic Medicine (ATSU-KCOM), hosted the annual Teddy Bear Clinic. The purpose of the event is to teach children what to expect when they visit various healthcare providers, and to expose them to a healthcare setting in a positive way.
Local children were invited to bring their favorite stuffed animals to the clinic. The children escorted their fluffy friends through eight healthcare stations, where the stuffed animals received physical exams, dental care, shots, casting for broken bones, and other medical treatment. Children learn about the various tools they may encounter in a doctor or dentist's office, and what to expect throughout an appointment.
"This event is a great way for ATSU students and children to connect in a fun, meaningful way," says first-year student Jessica Clark, who helped coordinate the event. "ATSU students are able to apply the information they've learned in an interactive environment that promotes health and wellness in our community."
Volunteers from ATSU's Missouri School of Dentistry & Oral Health and Truman State University helped out at the clinic, alongside medical students.