ATSU-KCOM students honored for community service
Posted: May 8, 2013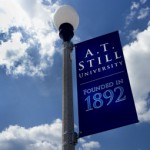 A.T. Still University's Kirksville College of Medicine students have been honored for going above and beyond when it comes to community service.
Students were recognized by the Council of Osteopathic Student Government Presidents for participating in the Translating Osteopathic Understanding into Community Health (TOUCH) program.
In order to receive this distinction, students must complete a minimum of community service outside any requirements from the school.
Platinum Recipient (most hours)
Leah Frank, OMS I
Gold Recipients (> 100 hours)
Katherine Milam, OMS II
Ryan Hayes, OMS II
James Tucker, OMS II
Matthew Smetana, OMS IV
Bhargav Chandrashekar, OMS II
Erin Majchrzak, OMS III
Jessica Lapinski, OMS I
Silver Recipients (> 50 hours)
Gina Doloresco, OMS II
Meaghan Raney, OMS II
Giovanni Crosland, OMS II
Ashley Hall, OMS II
Christine Beeson, OMS I
Jake Moore, OMS I
Roxanne Rajaii, OMS III
Michelle Hamilton, OMS II
Deanna Jarzabkowski, OMS II
Kaitlyn Stratowski, OMS II
Jonathan DeBoer, OMS I
Philip Hall, OMS II