ATSU-KCOM student returns to campus one year after stroke
Posted: January 26, 2017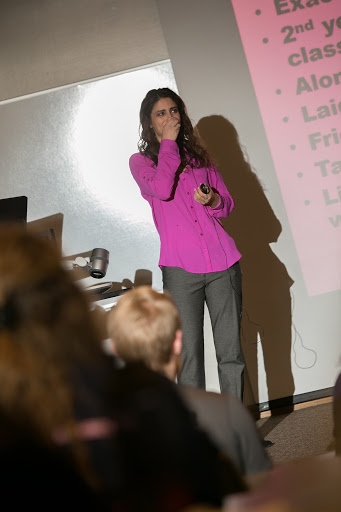 A.T. Still University Kirksville College of Osteopathic Medicine (ATSU-KCOM) student, Sydney Priest, OMS I, stood in front of a packed classroom full of faculty, staff, and students one year after suffering a debilitating stroke.
"It's my anniversary today," said Priest as she held back tears.
She recalled the events that day. On Jan. 26, 2016, Priest suffered a stroke in her apartment after classes. For hours, she lay still. Paralyzed, weak, and helpless, Priest feared the worst. Her parents tried to contact her. After multiple failed attempts, they too knew something was wrong and reached out to her friends and classmates.
Shortly thereafter, her friends walked into the surprisingly unlocked apartment to check on her. They found Priest unresponsive on the floor. Shocked, they immediately dialed 911, and she was rushed to the hospital. Results of the CT scan revealed a stroke.
Due to of the severity of her condition, Priest was flown to University Hospital in Columbia, Missouri. There, doctors discovered she experienced a basilar artery occlusion, a rare kind of ischemic stroke. These strokes occur because of an obstruction within a blood vessel supplying blood to the brain.
An emergency procedure was required to remove the 3-centimeter blood clot in the back of Priest's brain. She came through the operation without any complications. After intense rehabilitation, Priest is now back on the Kirksville, Missouri campus ready to resume medical school and care for those who may endure may go through similar experiences.
"I've been so inspired by my rehab doctors," says Priest. "I want to be able to encourage others and let them know I've been there. I want them to know they can recover too."