ATSU-KCOM hosts Russian visitors
Posted: March 13, 2014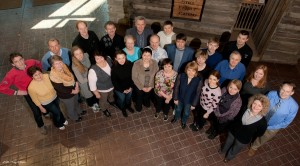 A.T. Still University-Kirksville College of Osteopathic Medicine hosted 28 Russian MD/DO visitors the week of March 10, 2014. The  guests were here to observe the curriculum and teaching techniques to possibly implement at their own osteopathic schools.
Clive Standen, principal, osteopathic program at UNITEC, Auckland, New Zealand, former principal, British School of Osteopathy,  presented a workshop on osteopathic manipulative medicine education.
Three years in the making, this trip was planned to connect the history and roots of osteopathy with modern osteopathic medical education, as well as tour the campus and learn about areas like dissection, ultrasound, the Still Research Institute, and visit the grave site of A.T. Still, DO.