ATSU-KCOM hosts 2018 commencement ceremony
Posted: May 25, 2018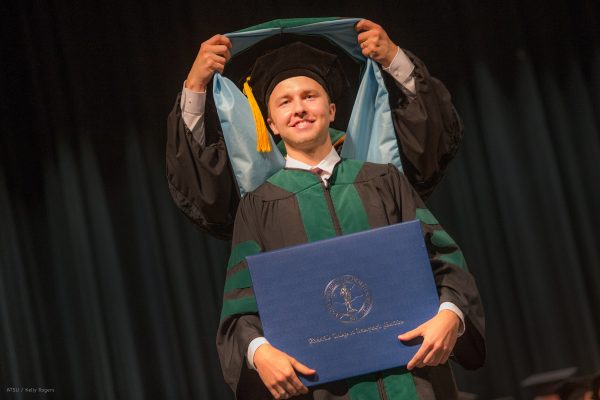 A.T. Still University's Kirksville College of Osteopathic Medicine (ATSU-KCOM) celebrated a new class of 174 graduates on May 19, 2018, in Baldwin Hall Auditorium at Truman State University. Of the 174 graduates, 169 received their doctor of osteopathic medicine degree and five received their biomedical sciences degree. Eleven graduates will join the military forces.
Established in 1892 as the first college of osteopathic medicine, ATSU-KCOM has a rich history of leading comprehensive medical education, research, and healthcare. ATSU-KCOM's graduates represent a diverse group of osteopathic physicians practicing in every state and several foreign countries.
Thomas C. Gentile Jr., MSA, received an honorary doctor of osteopathic education degree, and Karen J. Nichols, DO, MA, MACOI, CS, received an honorary doctor of osteopathic medicine degree.
Gentile retired as vice president for academic affairs and chief academic officer at St. John Health System in 2004. He currently is a reviewer for Academic Medicine, the journal of the Association of American Medical Colleges, and has held several professional and community appointments, including serving on the Still Osteopathic Postdoctoral Training Institution Governing Board.
Dr. Nichols serves as dean of Chicago College of Osteopathic Medicine at Midwestern University. She was the first woman to hold the president position of American Osteopathic Association, Arizona Osteopathic Medical Association, and American College of Osteopathic Internists. She also served as commencement speaker for the ceremony.
"The essence of being a really excellent physician is in caring," said Dr. Nichols as she addresses the class of 2018.
ATSU-KCOM DO class stats:
169 graduates
79 females
90 males
55 from Missouri
Two countries represented
32 states represented
ATSU-KCOM Biomedical Sciences class stats:
Five graduates
Two females
Three males
Two from Missouri
Four states represented