ATSU-KCOM holds Student Clinician Ceremony
Posted: May 6, 2014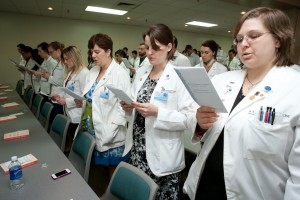 A.T. Still University's Kirksville College of Osteopathic Medicine held its annual Student Clinician Ceremony on April 28, 2014.
It was a special day for the class of 2016 as they wind down their time on campus and transition into their clinical years at rotation sites around the nation.
Margaret Wilson, DO, '82, dean, led the ceremony where students were given words of advice, wisdom, and a reminder of the compassion that osteopathic medicine stands for.
The keynote address was given by Norman Gevitz, PhD, senior vice president for academic affairs. Michael Lockwood, DO, gave the faculty farewell and Nancy Howe, DO, welcomed the students to clinical training.
Students pinned their peers with A.P. Gold Humanism in Medicine and American Osteopathic Association pins and Dr. Wilson concluded the ceremony by leading the future physicians in the Osteopathic Oath.