ATSU-KCOM celebrates National Primary Care Week
Posted: December 3, 2013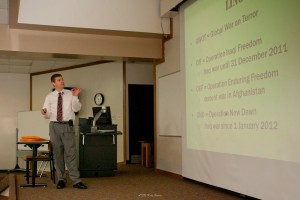 Dr. Ryle gives a presentation on the AHEC Veterans Mental Health Project
Students and faculty at A.T. Still University's Kirksville College of Osteopathic Medical School observed national Primary Care Week on Nov. 18-22, 2013. Events were sponsored by ATSU-KCOM and Missouri Area Health Education Centers,
Several student organizations sponsored guest speakers, including Margaret Wilson, DO, dean, and Wesley Ryle, MD, associate professor, family medicine, as well as other community healthcare professionals.
There was also a day that focused on pediatrics, where several student organizations joined forces to decorate stuff animals to give to children's units at the local hopsital, ambulance district, and fire department.