ATSU-KCOM awarded National Institutes of Health R15 grant
Posted: September 26, 2018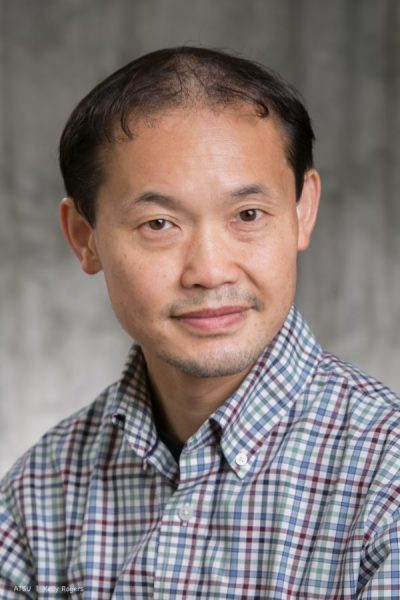 The National Institutes of Health (NIH) announced its full funding of an A.T. Still University-Kirksville College of Osteopathic Medicine (ATSU-KCOM) three-year study through its Academic Research Enhancement Award (R15 grant). The study's principal investigator, Yohei Norimatsu, PhD, assistant professor, physiology, ATSU-KCOM, submitted his award application and study, "Atomic-Scale Refinement of CFTR and TAAR1 Molecular Models for the Study of Drug Binding," in October 2017; the NIH Notice of Award was received August 2018 totaling $382,343.
The three-year study, which will occur Sept. 1, 2018, through Aug. 31, 2021, will support Dr. Norimatsu's research to improve design and discovery of pharmacological therapies for cystic fibrosis (CF), secretory diarrhea, schizophrenia, and drug addiction through atomic-level modeling of protein drug targets.
"The funding allows me to investigate how protein structures and dynamics of CFTR and TAAR1 relate to their functions, and accelerates our research toward the long-term goal of in silico drug screening and structure-based drug design," said Dr. Norimatsu. "I hope this study will lead to collaborations with other investigators within ATSU and beyond. What is exciting to me is that extra funding resources make it possible to have more students in my lab to experience biomedical research."
Cystic fibrosis transmembrane conductance regulator (CFTR) is a drug target for CF, the most common lethal genetic disease in the U.S., and secretory diarrhea, which is one of the leading causes of death among children globally. Trace amine-associated receptor 1 (TAAR1) is a promising drug target for schizophrenia, a devastating psychiatric illness that affects approximately 1 percent of the U.S. population, and drug addiction, which is causing at least 196 drug overdose deaths every day in the U.S.
Dr. Norimatsu is the second ATSU researcher to earn an NIH R15 research grant within the past year, which is a first in ATSU history. In September 2017, Tara McIsaac, PT, PhD, associate professor of physical therapy at ATSU's Arizona School of Health Sciences earned NIH R15 grant funding for her research on "Multi-limb Control in Parkinson's Disease: Implicit and Explicit Control of Attention."
Dr. Norimatsu will be assisted by Oliver Beckstein, PhD, Arizona State University, co-developer of dynamic importance sampling techniques used within the study.