ATSU-KCOM awarded for poverty simulation
Posted: June 10, 2014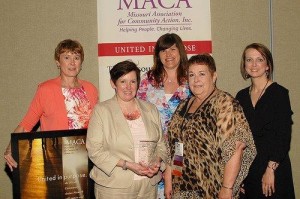 L-R: Drs. Wilson and Sexton with Sara Grgurich, sponsored programs coordinator, Penny Miles, and Heather Lockard, executive director, MACA
A.T. Still University-Kirksville College of Osteopathic Medicine (ATSU-KCOM) was honored for its humanitarian curriculum on May 1, 2014. Margaret Wilson, DO, '82, dean, and Patricia Sexton, EdD, FNAOME, associate dean for curriculum, associate professor family medicine, received the Outstanding Service to Community Action Award at the Missouri Association for Community Action, Inc., awards luncheon at the Capitol Plaza Hotel in Jefferson City.
ATSU-KCOM was nominated for the award by Penny Miles, director of Northeast Missouri Community Action Agency for its partnership on the annual Poverty Simulation, which is part of the first-year curriculum. ATSU-KCOM has used the simulation for three consecutive years, sponsored by the Complete DOctor course and the Northeast Missouri Community Action Agency.
Students experienced a small taste of the stress felt by those struggling with the pressures of poverty. They were given a role and scenario with the choice of what resources to use in short amounts of time. The real-life scenarios and props are meant to give students a feel for what their future patients could be going through and why compassion in medicine is important.
Read more about the Poverty Simulation experience here.