ATSU-KCOM and Truman State University collaborate to launch new program
Posted: February 25, 2016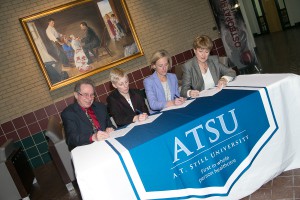 A.T. Still University (ATSU) and Truman State University (Truman) partnered to launch a new "3+4" program that will allow Truman students to enter ATSU's Kirksville College of Osteopathic Medicine (ATSU-KCOM) after just three years at Truman. This Pre-Med/Med Accelerated Track is designed to provide admission opportunities to qualified students who aspire to become osteopathic physicians.
After completion of their first year at ATSU-KCOM, credits will be transferred to Truman. Students will then be awarded with their bachelor of science in health science or exercise science. "This agreement is between our health science and exercise science majors, and it also provides them with another opportunity for their long-term goals – especially one right here in our backyard," said Janet Gooch, PhD, MA, dean, school of health sciences and education, Truman.
This agreement further develops the partnership between the two Universities, and it will allow outstanding students to focus on their career path early in their undergraduate studies. "This community is so fortunate to have two institutions of higher learning," said Margaret Wilson, DO, '82, dean, ATSU-KCOM. "This is the perfect opportunity for us to partner to identify those exceptional students at Truman who have an interest in osteopathic medicine." This agreement was also coordinated by Sue Thomas, PhD, MA, MBA, executive vice president for academic affairs, provost, Truman; Norman Gevitz, PhD, senior vice president – academic affairs, ATSU-KCOM; and many others.