ATSU-KCOM alumnus sets goal of becoming hospital CEO
Posted: July 14, 2020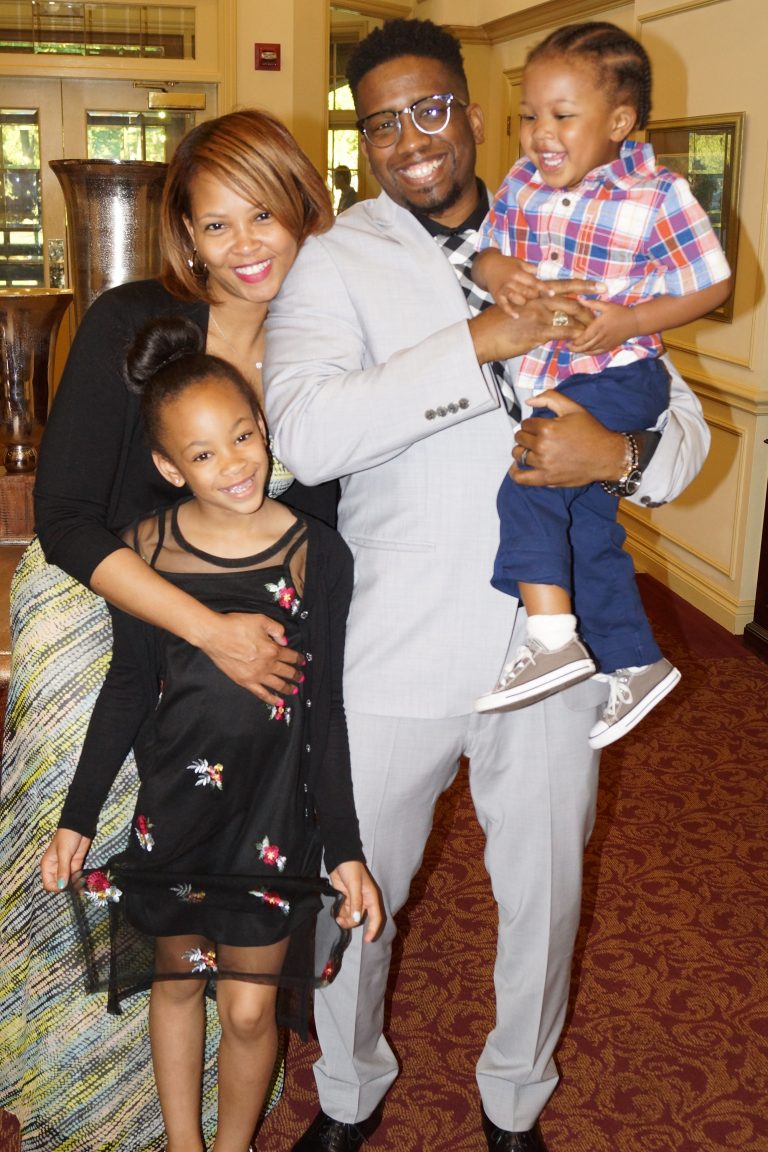 ATSU-KCOM alumnus David Rhoiney, DO, '14, poses with his family. Pictured from left are his daughter, Kyli S. Pinchem, wife, Kimberli M. Rhoiney, NP-C, Dr. Rhoiney, and his son, Myles K. Rhoiney.
Part of A.T. Still University's (ATSU) mission is to serve underserved populations.
For a big part of his life, ATSU-Kirksville College of Osteopathic Medicine (KCOM) alumnus David Rhoiney, DO, '14, lived as a member of that population. He spent time in a homeless shelter. He lived in a car with his mother and brother. He recalled one day when his mother had a seizure, and he couldn't do anything to help.
Dr. Rhoiney's journey to a career in healthcare was born from those experiences, those feelings of helplessness. 
"I decided it was no longer going to happen," Dr. Rhoiney said. 
He attended the U.S. Naval Academy, trying to find ways to put himself in the same spaces as those who were going into medicine. He initially found a path in cryptology, but knew healthcare was his end goal. He took night classes after 12-hour workdays, and applied to medical schools while deployed at the Guantanamo Bay Naval Base.
Dr. Rhoiney got a brief time off the base for medical school interviews and ATSU-KCOM was first on the schedule. He interviewed on a Thursday, was offered a seat Friday, and he canceled his other interviews. 
Part of that was due to difficulty surrounding getting off the base for further interviews, but during his brief time in Kirksville he found something special, too.
"Everything felt comfortable and I felt like they wanted me there," Dr. Rhoiney said. "I felt like part of the family."
He also found something familiar in another ATSU-KCOM student, John Thurman Jr., DO, '12. Dr. Thurman had previously attended the U.S. Military Academy and their shared military backgrounds offered assurances. 
"I looked at him and said, 'If he is surviving here, I know I can do it,'" Dr. Rhoiney said.
The Navy granted him contingent resignation, providing a scholarship for medical school with the understanding he'd return as a Naval physician. He focused on his studies while in Kirksville and excelled, and also began working to help recruit historically underrepresented students to the University.
"Folks who looked like me weren't going there," Dr. Rhoiney said. "In medicine, the African American male is very underrepresented. You just don't see us. That's a big deal."
A lieutenant commander in the Navy, Dr. Rhoiney is currently serving as a general surgeon at a Naval hospital in Portsmouth, Virginia, treating acute injuries and other problems. He's also focusing on mentoring as much as possible, in order to show other people that what he did can be repeated. 
"If someone is from an underserved neighborhood or an underserved environment, they can be black, white, whoever, they came from a disadvantaged background, I make an effort to help them get to the point of success they want to," Dr. Rhoiney said. "I was able to achieve success in the technology field as a cybersecurity expert, and now I'm a surgeon. I try to give back and show other people from similar backgrounds, regardless of skin color, that they can do the same things."
Driven to bring about change, Dr. Rhoiney has a lofty goal. He doesn't speak about it as a wish, though, but as a fact.
"I am going to be a hospital CEO one day," he said. "You can't change the system while working in the system. You need to be at the top to make the decisions. The higher I am in leadership, the more people I can help."