ATSU-KCOM alumnus says healthcare workers must tailor messages to connect with people on vaccine safety, importance
Posted: March 26, 2021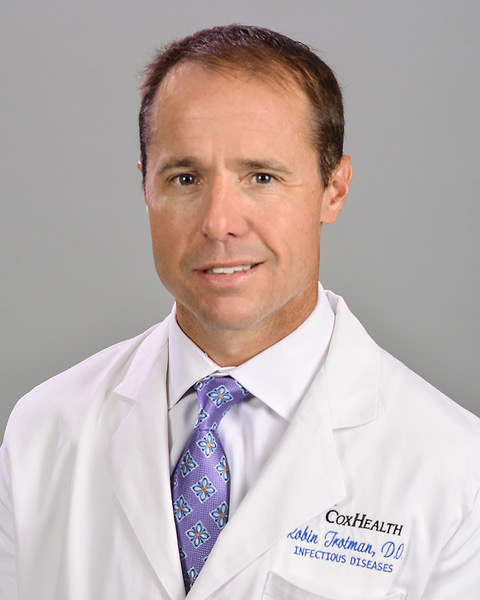 A.T. Still University-Kirksville College of Osteopathic Medicine (ATSU-KCOM) alumnus Robin Trotman, DO, '01, has been looking at the coronavirus pandemic from all angles since January 2020. An infectious disease specialist at CoxHealth in Springfield, Missouri, Dr. Trotman has used his expertise as a provider in his hospital, planner for the entire hospital system's protocols and responses, leader in public health response for his region, and advisor to Gov. Mike Parson as a member of a Missouri COVID-19 task force.
He's leaned heavily on his education, experiences, and professional organization to make it through the most challenging time in modern medical history, and has picked up new skills in navigating the bureaucracy associated with government response to healthcare crises.
But perhaps the most difficult part of it all was brought by an unexpected pandemic twist – human beings opposing science and the very nurses and doctors working to save their lives.
"It's been an exercise in sociology for me, watching human behavior and my inability to predict how our community and how our people were going to respond," Dr. Trotman said. "To wheel somebody out of the hospital who almost died from COVID-19, and then they throw their mask at the nurse and say it's fake and we're scamming the government for money, that kind of stuff I never, ever could have predicted."
That polarization is continuing as the pandemic enters its next phase, with workers and volunteers rushing to deliver a life-saving vaccine into the arms of as many people as possible. A segment of the population remains skeptical, denying the need for a vaccine.
Dr. Trotman says it is vital for healthcare providers to examine their communication strategies and reach that audience.
"In general, people are trying to do what's best for themselves and their families. I try to approach the disinformation and denial that way, and that's hard. It's hard when you see the direct consequences," he said. "I've become increasingly sympathetic to people who are living in an echo chamber of misinformation. If all of your news comes from the same resource every day, all day, that echo chamber is just going to reinforce this misinformation. People are dug in and trying to do the right thing for themselves.
"You're going to have to tailor your message," Dr. Trotman said. "Sympathetic and empathetic listening, and tailoring your message, not virtue signaling, not villainizing not taking the vaccine. The least effective tool in changing human behavior is to villainize that behavior."
Some opposition expressed by patients is not rooted in misinformation, but in their own experience. Medical advances like vaccines have historically taken years to test and perfect before being introduced to the public. The COVID-19 vaccine has been produced and brought to market in less than a year.
But there are reasons – concrete reasons that can be explained to hesitant patients – why this was possible. While this particularly dangerous coronavirus strain was new, scientists have been analyzing coronaviruses for years and previously identified the spike protein structure as an area to attack. Researchers have also been pursuing RNA-based solutions to vaccine development, a method to give the body tools to fight infection without introducing any live virus into patients.
With a foundation in place and an urgency for advancement, the only remaining roadblock was money. The federal government's Operation Warp Speed removed that concern, enabling companies to move forward in a way not previously possible.
"The process to get this vaccine is the same today as it was many years ago," Dr. Trotman said. "The difference is the trials have been run in parallel. Instead of doing a study, waiting for the data, getting it published, and then doing another study, they ran these studies in parallel, and started manufacturing in the beginning of Phase 3 trials. The government took on the risk and pre-purchased the vaccine. That's how we were able to do this in a year."
Another cause for concern stemmed from the scientific process unfolding on the public stage. Knowledge and advancement happen in real time, resulting in an evolution of best practices based on new data and research. With the pandemic front and center, a spotlight was placed on those changes, resulting in frustration and doubt for a public used to seeing all problems solved with finality in the span of 60-minute television dramas.
It wasn't any easier to deal with for the healthcare professionals, who like Dr. Trotman were reading and authoring new journal articles before sunrise and well after sunset in an effort to arm their staff and community with the best information possible.
"One of the most difficult aspects of this was the level of uncertainty. We didn't know how the virus was transmitted, we didn't have the equipment to diagnose people, we didn't have testing, we didn't have adequate PPE, we didn't know what PPE worked, we didn't know what therapies worked," he said. "In February 2020, if you would have told me diarrhea and loss of smell would be 100% predictive of COVID-19, I would have laughed. Think back to our original screening tools. They were, 'Have you been to Wuhan, China, and do you have fever and cough?' Otherwise, nobody got tested. We missed a lot of people because of the knowledge deficits."
Dr. Trotman said his membership in the Infectious Disease Society of America helped him through this period. Connections with colleagues in Seattle, where the virus emerged earlier, gave him a three-month head start on managing the pandemic in Missouri. Contacts throughout the country established their own communication network to share instantly any developments, allowing colleagues to stay on the cutting edge.
And he's always finding connections to his osteopathic medical education at ATSU-KCOM, saying those lessons helped him meet his patients' needs during the pandemic.
"As I'm evolving and maturing, I'm appreciating more every day the notion of the interconnectedness of the human organism. It's way more than the sum of the parts," Dr. Trotman said. "Especially in this pandemic, trying to see patients and populations as the net aggregate effect of all the parts, and trying to understand how to change human behavior, you really have to be empathetic and understand people. That's osteopathic tradition – body, mind, and spirit.
"I'll bet a lot of DOs look back on that thread and see the wisdom and appreciate it a little more."