ATSU-KCOM alumnus Dr. Habtu wants no patient to be forgotten
Posted: June 19, 2020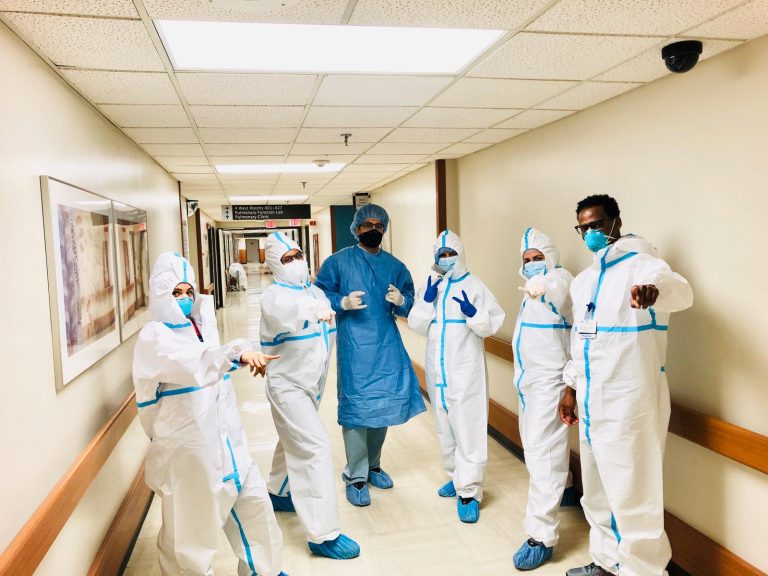 ATSU-KCOM alumnus Danni Habtu, DO, '19, MS, '15, right, poses with his fellow Detroit Medical Center residents. From left, Dr. Alizeh Rizvi, Dr. Sharmila Segar, Dr. Jasbir Singh, Dr. Adam Kamal, Dr. Sanaz Rykwalder, and Dr. Habtu.
A.T. Still University-Kirksville College of Osteopathic Medicine (ATSU-KCOM) alumnus Danni Habtu, DO, '19, MS, '15, wants to make sure no one is forgotten when it comes to healthcare.
Currently in residency with the Detroit Medical Center, Dr. Habtu is working with an underserved population on a daily basis, and that's exactly who he strives to serve.
"They're the forgotten people," Dr. Habtu said. "The mission (of A.T. Still University), it aligns to what I'm doing right now and the people that I'm serving."
Dr. Habtu was born and raised in St. Louis. Prior to his senior year in high school he attended a summer camp centered on health, science, and research. He was hooked, and chose the University of Missouri for his undergraduate studies in biochemistry.
During his search for postgraduate training he found A.T. Still University's biomedical sciences program in Kirksville, Missouri. He liked the program's structure, notably the opportunity to take some medical courses alongside doctor of osteopathic medicine students. As he neared completion, Dr. Habtu wanted more.
"When I got to A.T. Still, I saw that I could handle the course load and I enjoyed the classes in medicine," he said. "I knew I wanted to stay there. I enjoyed the school and the people there. They really cared about your learning experience, and the students were all pretty close."
He was one of eight to be accepted to ATSU-KCOM from his biomed class, and they remain close to this day.
"I was fortunate to have some good people around for that part of my training," Dr. Habtu said.
It was in his rotations that he developed an enjoyment of working diverse cases in a hospital setting. Dr. Habtu found his niche in internal medicine.
He's completing his residency at the Detroit Medical Center, with most of his work at Sinai Grace Hospital in Detroit, Michigan. An already struggling population there was hit hard by the coronavirus.
"We have a pretty sick population that we serve, with a lot of comorbidities. It's always a challenge but with that comes a lot of good training and you feel like you're ready to handle anything," Dr. Habtu said.
Compassion is a big part of what Dr. Habtu brings to his patient and family interactions, a trait he credits to his ATSU-KCOM education, and he's already seen the power it wields. About a month into his residency he said he worked with a patient who had been in intensive care, on a ventilator, sedated, and through many other ups and downs. The patient recovered and told Dr. Habtu it was personal interactions with providers who saw him as a person, not just another case, that helped him persevere.
Dr. Habtu sees a lot of similarities between the patients he's serving now and the people he grew up with in St. Louis. He not only wants to help these populations medically, but he hopes to send a message to young people there who also desire to pursue healthcare or other professions.
"The most important thing is if you're interested in pursuing something, if a door closes, another one opens up. Keep your eyes on the prize. Persevere through the struggles. Find someone who is where you're at, where you want to go, reach out to them and develop a mentorship. It's a process. You've got to take things one step at a time," he said.