ATSU-KCOM alumnus celebrates magazine feature, 20th anniversary of local practice
Posted: August 1, 2018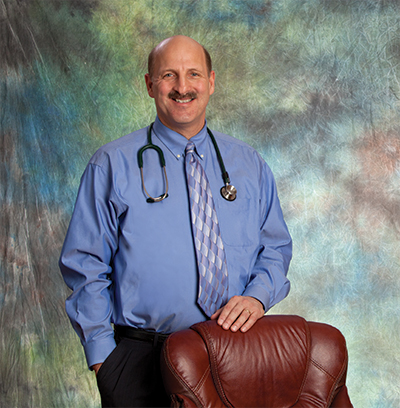 J. Matthew Halverson, DO, '92, graduated from A.T. Still University's Kirksville College of Osteopathic Medicine (ATSU-KCOM) in 1992, the University's 100th anniversary. Six years later, he opened James River Family Practice in Newport News, Virginia. This fall, he and his team will celebrate the practice's 20th anniversary.
More than two decades ago, Dr. Halverson was introduced to osteopathy by a relative who is a colorectal surgeon and became fascinated with the field and the "wonderful philosophy" of focusing on supporting the body's various healing mechanisms and functions. He refers to himself as a proud osteopathic physician and has never wavered from the emphasis on prevention over intervention he developed during his ATSU-KCOM residency at Riverside Regional Medical Center. Through his education and residency, his passion for osteopathy grew and led him to develop his own patient- and community-focused practice.
In honor the anniversary, Dr. Halverson and the James River Family Practice were recognized by the Hampton Roads Physician Magazine for the practice's longevity, ingenuity, and patient loyalty. The feature highlights the physician-patient relationships Dr. Halverson and his team have built, and their extensive community outreach, as they are one of the last independent practices in their community.
The James River Family Practice is well-known for its mission of providing five-star primary care. This means that all team members at the practice follow an approach made up of evidence-based accessible care, smooth-running profitable operations, electronic medical records and use of technology for patients' well-being, and an emphasis on teamwork.
This feature, and the 20th anniversary of the practice, is significant for Dr. Halverson and his 20-member team. "It is important that our physician colleagues, most of whom are employed by larger organizations, have recognized us for the value our practice gives to our patients," says Dr. Halverson. "As an independent practice, we have relied solely on our reputation and services to attract and maintain our patients. Over the past 20 years we have worked hard to develop long-term physician-patient relationships and provide services that are in line with a high quality of care, and it is meaningful for that hard work to be recognized on a professional platform."
Dr. Halverson is deeply honored by the community support his team has received over the years, and grateful to his staff for its commitment to these values.
"This means a great deal to me because it recognizes the efforts of our independent family medical practice to provide our patients with medical care that exceeds expectations and is courteous, convenient, competent, compassionate, and comprehensive," he adds. "Our community has been very supportive of our practice, and they have been thrilled to see us recognized for everything we do."