ATSU-KCOM alumnus, Air Force captain, participates in hurricane relief efforts
Posted: February 20, 2018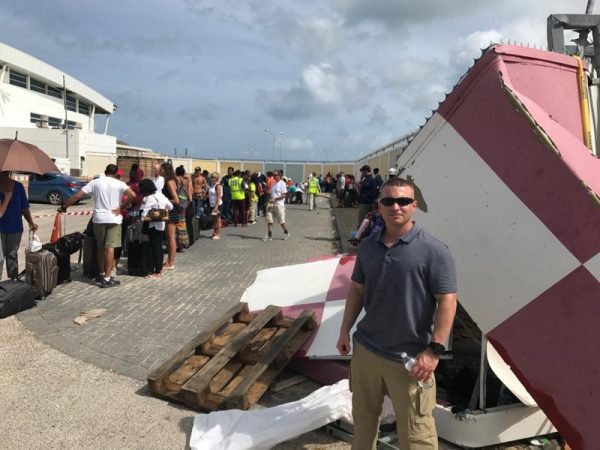 As a special operations flight surgeon in the Air Force, Ian Matthews, DO, '13, is trained and standing by to be deployed anywhere in the world on very short notice. Dr. Matthews attended A.T. Still University's Kirksville College of Osteopathic Medicine (ATSU-KCOM) through the Air Force Health Professions Scholarship program, committing to four years of medical school and four years of active duty service. He graduated as both a doctor and an Air Force captain.
"It's been a really cool opportunity with a lot of adventure," says Dr. Matthews. "I've been deployed multiple times, all over the world. I've visited almost all the continents."
When Hurricane Harvey wreaked havoc on the Gulf Coast, Dr. Matthews and his unit were on alert, but the call never came. Just a few weeks later, however, after Hurricane Irma had carved a path of devastation through the Caribbean, the ATSU-KCOM alumnus sprang into action.
Dr. Matthews and an independent duty medical technician hopped on a C-130 headed for Puerto Rico and then on to St. Croix to carry out relief efforts in the British and U.S. Virgin Islands. On the first day, they traveled to St. Martin, which had been decimated by the storm. Dr. Matthews' first job was to track down Americans who had yet to receive aid. Many people had been at the airport for days, waiting to be evacuated in extreme heat. Dr. Matthews' main concerns were dehydration and exacerbation of preexisting conditions. Once the most urgent needs were addressed, they began the evacuation, prioritizing children and the elderly, as well as people with chronic conditions. The process was complete in about 24 hours, and the team moved on to the next island.
Over the next few days, Dr. Matthews helped to evacuate more than 2,000 American citizens. In particular, he recalls a family from Anguilla with a young daughter. The little girl was frightened about boarding a military aircraft, so Dr. Matthews cheered her up with candy and a few jokes. He even gave her his own hearing protection. The family made it safely to the U.S., and Dr. Matthews is still in touch with them. 
He also encountered a group of medical students evacuating Anguilla, and noticed that they were all carrying textbooks onto the plane. He introduced himself as a physician, and learned that they were preparing for a licensing exam. Even in the wake of a hurricane, the dedicated students could not be separated from their study material. He sympathized, and joked about his own experiences in medical school to calm their nerves.
"A lot of people go into medicine, especially military medicine, because they want to help people," he says. "You dream of having the ability and opportunity to go out and be helpful to humanity. This was a once-in-a-lifetime opportunity to be able to do that. It was very rewarding, and I will take it with me for the rest of my career. It will be a touchstone to look back on if I ever have an opportunity to be a part of something like that again."